Which is the Largest Generation in the US and the Biggest Influence on Digital Marketing
February 01, 2019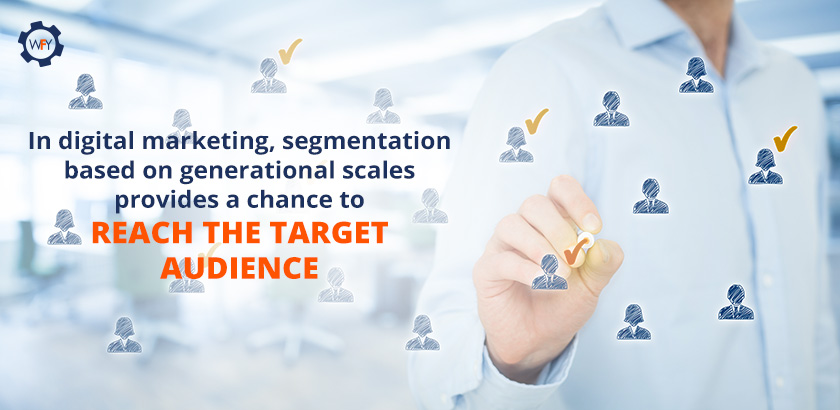 For any person keeping up with the marketing world, segmentation is a very familiar concept. A company looking for ways to promote a product they wish to sell must create a buyer persona before taking off with whatever strategy their marketing team has developed. Without segmentation of the target market, the marketing strategy loses all purpose and can potentially result in a financial disaster.
Segmentation entails thorough research about everything related to the target we want to reach. This leads to a firm buyer persona that a company can use to create effective strategies. Different techniques are applied to complete this task, like marketing studies, geographic and demographic analysis, and even surveys, all with the goal of accurately defining the strategy that needs to be implemented.
A good way to start this process is to identify the habits and behavioral patterns shown by each portion of the market, especially in the digital world where a large number of potential customers are looking for the same thing: the acquisition of a particular product or service.
Many digital marketing experts currently view mild differences between online and offline market. The Internet has become a powerful tool that young people and elders alike use to make sales and purchases. Older people are now starting to see the digital age as an advantage that simplifies tasks that were once more difficult, closing the gap between traditional forms of communication and the innovations of digital marketing.
This is why experts recommend applying a segmentation technique based on generational scales that show cultural divides in the perception of digital services. From here, a company can plan a strategy capable of reaching a more diverse audience.
Generational Groups and Technology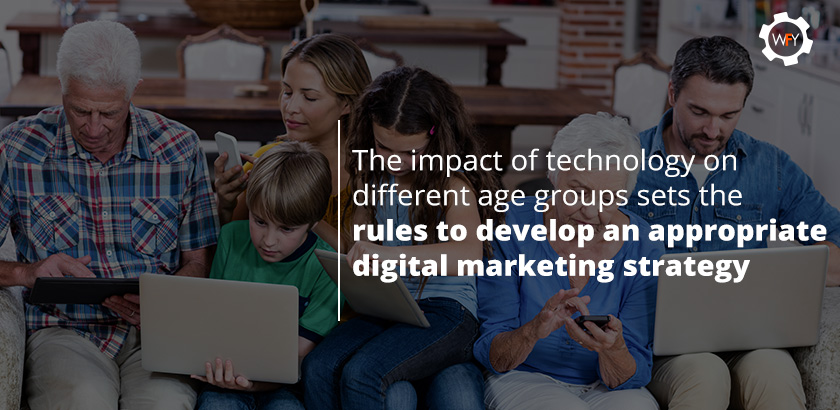 The creators of the generational theory, Strauss and Howe, define the generations as the combination of people born in a span of 20 years, separated according to the duration of a stage in life: infancy, young adulthood, middle age, and old age. Strauss and Howe named the generations they established during their investigation, identifying the experiences, culture, or historic landmarks lived during each period.
Generations are people that grow alongside certain values and cultures that often change wildly between one group and the next. Our grandparents, uncles, parents, grandchildren, etc. are all part of one specific generational group. In this blog post, we will focus on describing each group in relation to the impact they have on technology in order to help you work on an appropriate digital marketing strategy.
Generational Groups Millennial Saeculum
Baby Boomers (1946-1964) — 53 - 71 years / 22.3% of the US Population
This generation got its name thanks to the wave of births taking place in the U.S. after World War 2. In fact, the birth rate grew by 2 births per 100 women, a considerable increase given the circumstances at the time. According to Statista, there were 73 million baby boomers living in the U.S. in July of 2017, representing 22.3% of the population.

Baby boomers are known for loving their chosen craft and the stability provided by their work. They are conservative and value traditions. Despite not showing much interest in technology, most of the people in this group have managed to meet its advantages, getting into different social media platforms, trying the newest mobile devices, etc. Baby boomers have become digital immigrants and, representing 50% of the consumer expenditure in the U.S., are a strong target for sales. According to DMN3 and Forbes, 96% of baby boomers use online search engines, 95% of them use email regularly, and 92% of them acquire products or services online, instead of heading to stores.

Let's remember that baby boomers have probably gone through the process of making a career and supporting a family, along with all the financial requirements this entails. It's likely they're entering a stage of rest and relaxation, which gives them more free time to browse the Internet, make purchases, etc.


Generation X (1965-1980) —52 - 37 years/ 19.9% of the US Population
This generation was born after the baby boomers. For many experts, the name Generation X is a direct reference to the lack of births taking place at the time, setting a complete contrast to the generation preceding them. According to Statista, there were 35 million members of this age group living in the US in 2017, which made 19.9% of the population.

Generally speaking, this group represents the children of baby boomers and the millennials' parents, while standing in the middle of the digital transformation that started in the late 80s. They grew alongside the discovery of the Internet and, while not considered digital natives, they still show interest in learning everything about the digital age. Even though many people in this age group are still in touch with traditional forms of communication, 81% of them are active Facebook users and 74.3% of them make online purchases (AdAge).

People from generation X are hardworking and independent; they have strong principles and embrace noble causes. Their distrust for big corporations means that their preferences are hard to identify when it comes to marketing strategies. However, they feel attracted to brands that have a solid mission concerning the needs of the public and community services.


Generation Y / Millennials (1980-2000) —37 - 17 years/ 21.7% of the U.S. Population
Millennials are probably the generation that has caused the most discussion to date. Born between 1980 and 2000, millennials represented 21.7% of the US population in 2017, with 71 million citizens.

Generation Y (as they were originally called before the word millennial spread across the globe) have specific qualities that immediately make them stand out from other age groups. Their skills to manage and adapt to technology greatly surpass those of their predecessors. The power they have these days, especially in marketing and sales, is just as significant when compared to other age groups.

These folks were born at a time when technology was on the rise, making them digital natives. While not completely dependent on the Internet, they still use it very frequently to help them through their daily tasks. According to a study made by Fluent in 2017, 7 out of 8 millennials use smartphones and, according to Inc., 84% of millennials use mobile phones to make purchases. It's clear that this generation represents the strongest target for companies looking for "power buyers."

Millennials can be very demanding when dealing with finances and in their work. Highly capable of making their way in a professional environment, they look for the perfect job with a high salary to cover for all their needs and bring them comfort.

In commercial matters, millennials are very committed to the brands they choose. Depending on the quality of the product/service and the options provided by brands to make a purchase, millennials remain loyal to them and take this commitment very seriously.


Generation Z / Centennials (2000- present time) —0 - 17 years/ 26.3% of the U.S. Population
Centennials, or Generation Z, are people born after 2000, the post-millennial age. They are considered the millennials' younger siblings and even their children. According to Statista, they made 26.3% of the U.S. population, with 86 million births taking place after 2000.

This young generation, while often overlooked, represents a future in development and will carry the legacy of both Gen X and Millennials.

Centennials are known for being more conservative than their predecessors. They refrain from spreading too much information on social media or in real life. Nevertheless, technology is a big part of their lives and, being born during the digital age, the Internet and many online platforms are essential to them.

When it comes to their criteria as consumers, members of this group are against making purchases on a whim, a habit that they deem overrated. They get what they need and show no interest in looking beyond that. Centennials are passionate about the environment, natural resources, and sustainable consumption, so they lean toward products that support these causes.
As we identify the generations that witnessed the birth and evolution of technology, we understand why companies based their segmentation process on the groups that are more conscious and open to digital resources. This is why you need to know:
Which is the Leading Generation in the U.S.?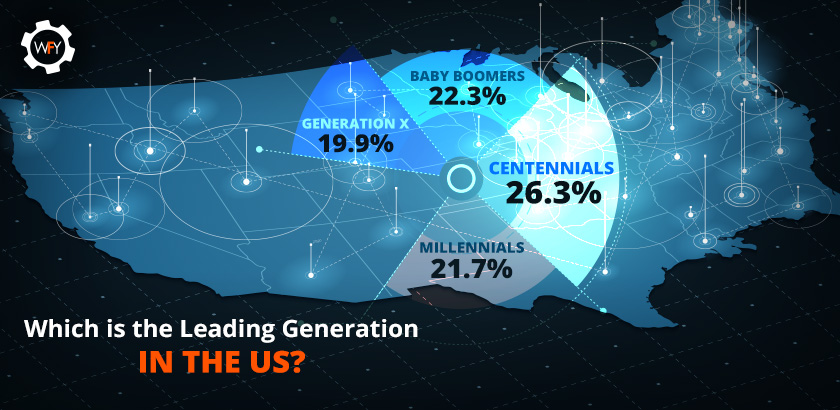 According to the statistics included in this piece, Centennials are the largest living generation in the U.S., with 26.3% of the population (86 million citizens). They are not a target for marketing experts, however, given that they don't have the maturity, financial independence, or knowledge about the different forms of payment in the market to represent a strong audience for companies.
This is why the generation that follows Centennials as the second largest living generation is also the leading target in the market. Baby boomers, with 73 million citizens and 22.3% of the U.S. population, have the self-sufficiency to make decisions in the market and change the approach taken by companies.
Millennials Will Surpass Baby Boomers in 2019
Millennials are expected to surpass baby boomers as the largest living generation in the U.S. by 2019 (
Pew Research
), but they aren't the only group with capabilities on the Internet, social media, or online shopping. In fact, Pew Research Center's comparative study states that 85% of members of the Generation X and 65% of baby boomers also stick to the trend of frequently using smartphones for different online activities.
We previously talked about a clear balance in the generational scale in regards to people's involvement with the digital world. By now, it's clear that Millennials are not the only group providing sales opportunities. Companies must study the structure of the online market to make a proper segmentation and obtain online success.
Do you Need Help with the Effective Segmentation of your Audience According to their Generations? WebFindYou is the Solution for You!
To maximize the power of this new segmentation technique, you need to assess and define the target's buyer persona. WebFindYou is the first and only All-In-One Digital Marketing Technology that integrates
more than 20 digital marketing tools
. This technology will help you identify your audience and get positive results in the execution of true digital marketing.
WebFindYou's technology allows you to accurately identify your buyer persona, simplifying the process entailed in measuring the data and the actions of all the potential customers interacting with your website. This is a useful advantage for optimizing digital marketing campaigns while focusing the strategies on users capable of providing a positive return on investment.
Do you wish to know more? If you want WebFindYou to guide you down the path to success on the Internet, we invite you to learn more about the 20+ digital marketing tools integrated in our technology. You can also contact us filling our website's
contact form
or calling us at
1-866-SEO-WEBS (736-9327)
. We will be happy to assist you!
If you found this article helpful then let us know in the comments section below. Likewise, feel free to share it using the share options below. Want us to cover another topic of your interest pertaining to digital marketing? If so, then like us and follow us on social media, and post to any of our social media profiles the topic you'd like us to discuss:
Facebook WebFindYou
,
Instagram @WebFindYou
and
Twitter @WebFindYou
.