6 Digital Marketing Strategies to Captivate your Customers on Valentine's Day
min read
February 18, 2019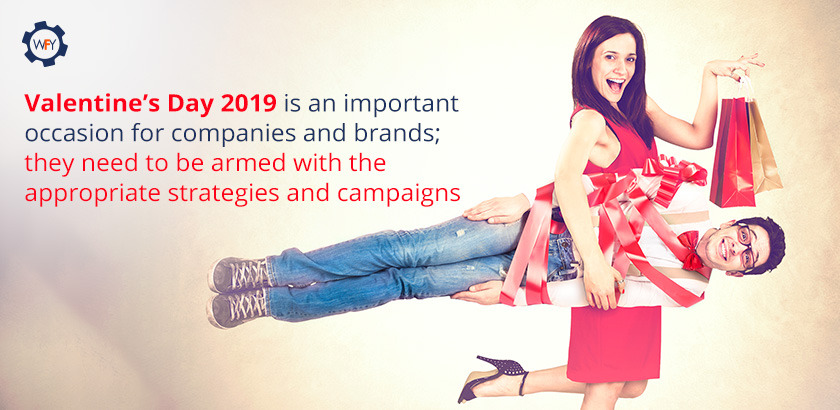 Seasonal marketing is meant to encourage sales and customer loyalty with content related to important holidays. It's an ideal strategy for businesses trying to enhance their offline and online marketing; Christmas Day, Super Bowl night, or Valentine's Day represent great opportunities to give a quick boost to your company's sales while attracting more customers, especially because many of the people drawn by a company during these times wind up becoming recurrent customers of the brand.
Today we will focus on a date that usually fills public venues with warm colors, hearts, floral arrangements, balloons, and more importantly, massive shopping sprees: February 14, better known as Valentine's Day.
February 14 is one of the most marketable dates in many parts of the world. In the U.S., its popularity is on par with Thanksgiving, Christmas Day, and Super Bowl night. During the entire month, lots of people visit stores and countless ecommerce platforms in search of the perfect gift for romantic partners, relatives, and friends.
In the days leading up to Valentine's Day, sales in the U.S. are expected to reach $20 billion (National Retail Federation), so this is obviously an important day for any company, regardless of its size. Entrepreneurs and marketers alike must ready themselves with campaigns that are powerful enough to attract their target audience.
With this in mind, WebFindYou presents six digital marketing strategies that will make customers fall in love with your products or services on Valentine's Day:
Use the Power of Email Marketing
We've already talked about the importance of email marketing as an effective tool to draw potential customers to your website, as well as for keeping the interest of the remaining users. This is just one more occasion in which you cannot miss the power of email marketing.

You have different alternatives to surprise your public during Valentine's Day. You could take time crafting an email with a creative design (graphics are vital for holiday content) and send your best wishes to your company's regular customers. You can also take this occasion to thank them for their loyalty. This is a way to make them feel closer to the brand and to revisit their assessment of your products and services.

Another option would be to use your email marketing for discounts and promotions, given that it represents a great way to share special surprises for your customers. More on this in the section below.


Make Discounts and Special Deals
Who doesn't like discounts? We don't even need to include statistics to show the appeal these tactics have on people. Users are always after something that helps them save a little more money for the perfect gift.
If your company is ready to take the risk of providing several options for customers, you can effectively succeed at increasing your sales. Here are some tactics you can consider for this Valentine's Day:



Discount percentages for everything you sell
Gift Cards
Free delivery
2 for 1 discounts
Free gift wrapping services



Include Contests and Giveaways
Giveaways represent an excellent way to attract customers, increase engagement, and strengthen loyalty. Thanks to users' positive response, giveaways have become a very common strategy that many brands use to get closer to their clientele.
You can launch a giveaway to your website and social media profiles, where users can comment, generate interaction, and get your hashtags trending. This represents a great opportunity to bring something new to the table while improving the engagement generated in your pages.


Stay Active on Social Media
Social media plays an important role in a digital marketing strategy, but on such a popular day, you need to pay even more attention to the content you publish and the style you choose for your posts. If you take extra care crafting your messages and schedules in the time leading up to Valentine's Day, as well as on the day itself, you can increase traffic to all your accounts. This will give you more chances to attract a wider audience with your online presence and to ensure new recurrent customers.

On Valentine's Day, you need to inject love into your feed. Whether you are on Facebook, Twitter, or Instagram, you can make changes on your logo for the occasion, make surveys with questions related to love and friendship, or provide tips for those trying to find inspiration on this day. The idea is to use original content that motivates users to interact with your brand.


Video Marketing
Video marketing strategies have gained popularity in the last few years, with 70% of marketers implementing video marketing as part of their campaigns in 2018.

Big enterprises like Gillette, Microsoft, Google, Nike, etc., have used storytelling techniques to promote their products and services in videos, with high levels of attraction from the audience. Users can easily relate to a message when they see it on a carefully edited video.

This Valentine's Day, you must get out of your comfort zone if you haven't tried storytelling strategies before. You can include your product in stories about this holiday and the traditions related to it, and your brand will generate the impact you need to get customers' attention.


Don't Neglect Single Customers!
You can make a daring strategy if you focus on those who will spend their Valentine's Day alone. After all, Valentine's Day celebrates all forms of love and friendship, not just romantic attachments. You shouldn't get stuck on "couples" as your main target audience.
Make sure to reach groups that are often overlooked, like single people wishing to treat themselves. Include content made just for them in your discount plans and in your advertising. If you take diversity into account for your marketing strategy, you'll attract more customers on Valentine's Day.
Did you Know WebFindYou Helps you Implement All the Strategies in One Single Place?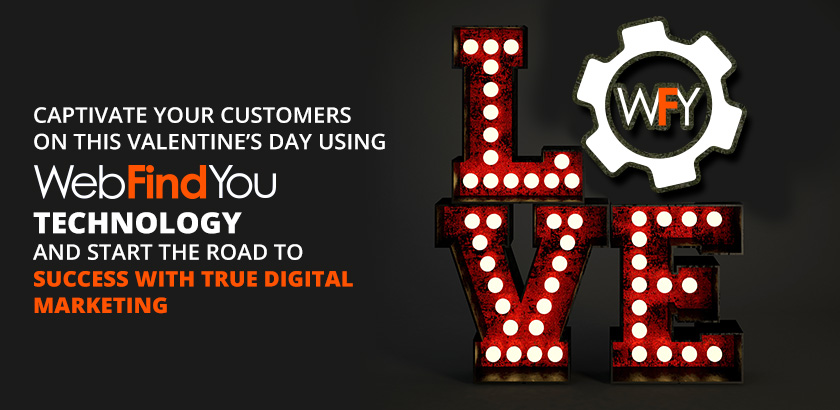 WebFindYou is the first and only All-In-One Digital Marketing Technology that integrates
20+ vital digital marketing tools
for the execution of true digital marketing.
Our technology has everything you need to make a success out of your Valentine's Day campaign. We have all the resources mentioned above in one single integrated platform. When you acquire WebFindYou's technology, you get:
The integration of all the tools you need for an optimal email marketing campaign within WebFindYou's technology, with no additional cost.
Exclusive web design tools and responsive technology to help you maximize user experience.
An integrated promotion management system to manage and track all the promotions in your website more efficiently.
The management of all your social media accounts from one single place, with ability to track phone calls and contact forms integrated in your posts, helping you learn all the information you need from your customers.
Search engine optimization in all the digital marketing tools we've integrated, and more.
Join WebFindYou's Technology!
Get your customers to fall in love this Valentine's Day and let us guide you down the path to success with true digital marketing. If you want to learn more about what our technology has to offer on this special occasion, call us at
1-866-SEO-WEBS (736-9327)
or fill the
contact form
in our website. We will be happy to assist you!
If you found this article helpful then let us know in the comments section below. Likewise, feel free to share it using the share options below. Want us to cover another topic of your interest pertaining to digital marketing? If so, then like us and follow us on social media, and post to any of our social media profiles the topic you'd like us to discuss:
Facebook WebFindYou
,
Instagram @WebFindYou
and
Twitter @WebFindYou
.