8 Effective Strategies to Improve your Email Marketing in 2019
February 08, 2019
Among the growing variety of resources developed to optimize digital marketing, the effectiveness of email marketing has led to the incorporation of a series of strategies to increase a brand's penetration rate.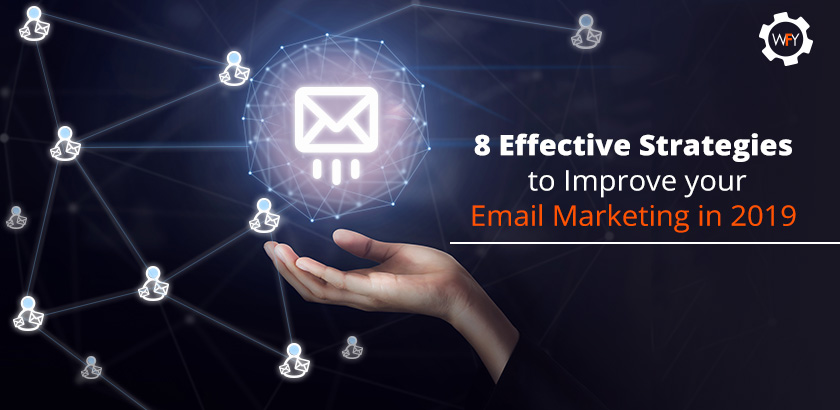 Email marketing tactics can secure a brand's reputation, helping a business to become a reliable part of the market. For companies, email marketing represents a way to communicate their business to a larger number of potential customers while keeping the attention of customers they have already acquired.
When you send notifications and promotional emails, you strengthen the relationship between users and the brand while offering a chance for people to learn more about your business and the services you provide. In spite of this, the only way to ensure the consistency of our email marketing campaign is to keep a frequent analysis of the conditions that define the audience's preferences. You must use these resources correctly, beyond their mere implementation, to keep the success and the popularity of your business in the competitive world of the Internet.
The
infographic published by Connext Digital
illustrates the email marketing trends that will determine the brand's' success in 2019. We will now present these strategies, along with useful information for their implementation into your digital marketing campaign.
Maximize Your Marketing Funnel:
Marketing funnel and sales funnel are terms used to identify the different steps taken by the user until a particular goal in a marketing strategy is completed.

Email marketing provides several opportunities to reformulate the traditional structure of a marketing funnel. This restructuring can change with each new strategy, depending on the brand's needs as it works toward the goal of increasing leads. The advantages of email marketing to turn user attention toward certain products and services allow the conversion of leads during many stages of the path in a company's marketing funnel.

According to statistics provided by Salesforce, 68% of companies haven't studied nor stablished a sales funnel for their online marketing strategies. This is reflected by low percentages of conversions. When you don't take advantage of this resource, you lose several opportunities in your email marketing campaign, limiting your chance to increase the number of customers.


Respect for Privacy and Data Security:
As of May of 2018, the General Data Protection Regulation (GDPR) monitors all private content processed and managed by companies. This regulation was created to protect private data of all users that become recipients of promotional emails in the EU, with the ultimate goal being to stop the chain of privacy violations that's affecting so many companies around the world.

The content included in email marketing campaigns is now regulated by a very strict set of policies. A company is bound to manage a considerable amount of personal information from users all over the world. If you make data privacy a priority and optimize the security mechanisms over the information transferred by your business, you are simultaneously protecting your company's integrity and building loyalty and trust with your customer.


Interactive Emails:
Ever since they started their involvement with the digital world, users have responded to strategies that allow them to actively participate in things. They also appreciate the creative integration of visuals, audio, and other elements in pieces that become part of a brand's signature. This integration must always get users closer to the company in some way. If not, the emails sent in your campaign can be easily dismissed as spam regardless of their graphic attributes.

The digital world has been affected by a great variety of content marketing tools created to satisfy people's interests. In light of this, the safest way to attract user attention is the inclusion of interactive elements like surveys, menus, animated gifs, and personalized messages to highlight client tastes while giving them the opportunity to interact with your brand. When you incorporate these elements in your email marketing campaign, you will leave a positive impression on your customers, and your emails will stand out from the rest of the messages accumulated in their inbox.


Integration of Email Marketing with Other Digital Marketing Strategies:
It's no secret that the integration of email marketing into a complete strategy that encompasses all of the digital marketing resources is one of the most effective trends of 2019. This integration is based on a seamless unification of different digital marketing tools, which exposes customers instantaneously to all the advantages provided by your business.

Email marketing represents one of the important avenues for enabling this integration and developing a marketing campaign where all resources help sustain each other.


Targeted Automation:
Segmentation strategies have proved to be highly effective for personalized emails, simplifying the creation of email marketing campaigns that revolve around the target's needs.

Companies can assess the outcome of previous marketing campaigns to maximize the customization of online content, and this information can be used for the automation of emails. Automation can simplify the process of an email marketing campaign, but only if it's based on the correct interpretation of user response. This information is vital to turn emails into effective channels for attracting users that fit your company's buyer persona. There are tactics that change with the resulting levels of engagement, constantly improving the accuracy of targeted emails and ensuring they reach the most receptive audience.


Lead Nurturing:
In direct relation to some of the strategies previously mentioned, lead nurturing focuses on preserving user loyalty and strengthening the relationship between customer and brand. Strategies that are overly formal and/or too impersonal are seldom effective. In a similar manner, users tend to strongly reject content that is not useful to the needs that originally led them to a website. Email marketing campaigns focusing solely on the direct sale of products/services fail because they don't address the users in any significant way.

Potential customers wish to have their particular needs validated by companies. When you provide useful information to serve as reference or include interactive content that lets you know customer interests, you get a more enthusiastic response. Clients will also be more receptive toward brands that have variety and enough resources to justify their position in the market.


Optimization for Mobile Devices:
The accessibility of mobile devices has made them popular with consumers, particularly for checking and sending emails. A study performed by Vision6 shows that 49% of emails are opened on mobile phones and that 47% of users use mobile devices to view promotional emails. If a person is constantly on the move or has time constraints, a smartphone or a similar device represents an obvious option for a quick perusal of their inbox.

Similar to what happens with other digital marketing strategies, email marketing campaigns lose more than half of their impact if the emails are not optimized for mobile viewing. The functionality of mobile devices helps users manage their time more efficiently, so mobile optimization is something they expect to find in any email that lands in their inbox. If this optimization is not integrated in an email marketing campaign, users will dismiss the emails without a second thought.


Hyper-Personalization:
Hyper-personalization has led to the improvement of many of the strategies mentioned above. Customers are always looking for companies that they can fully trust. If you address them directly (by using their names or mentioning the general conditions in their location), they will see it as a sign of interest toward their circumstances and they'll be more open to any information you share about your brand.

When you adapt your emails to your customers on a personal level, they will be receptive before they even start browsing your website. Your email marketing campaign as a whole will be much more effective if you make sure the content of your emails is relevant to customer interests.
According to this information, and the statistics provided by
Boomerang
, the success of email marketing campaigns nowadays is based on unique yet minimalistic designs, brief texts as a focal point, and enough informality to start a relationship between brand and consumer. Interaction is highly valued, along with the initiative to provide content that is functional enough for users to apply in the near future.
Maximize your Email Marketing Strategies with WebFindYou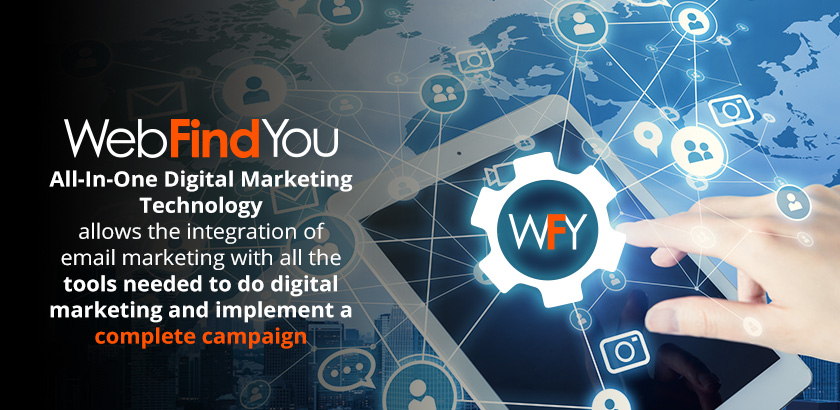 Email marketing is one in a wide array of strategies that, when applied appropriately, guarantee favorable results like web visibility and an increase of leads and sales. The correct implementation of these strategies requires integration so they can work together and complete each step of true digital marketing. Because of this need for integration, WebFindYou developed the first and only All-In-One Digital Marketing Technology. This technology was programmed from scratch to simplify the implementation of
true digital marketing
while incorporating all the necessary resources to maximize web visibility for a company.
WebFindYou's technology includes all the features and advantages offered by the main email marketing providers, with the addition of professional designs for your emails and the integration of
more than 20 digital marketing tools
in one single place, all at no additional costs.
Using WebFindYou, you can measure the success of your email marketing campaigns. Our tracking technology provides all the information you need to know where each lead comes from, the pages they visited on your website, etc. This way, your audience can be segmented more effectively, and all your strategies will be optimized. All the users interacting with your website (via contact form, shopping cart, newsletter, etc.) are already in our system, so you won't have to worry about importing email lists from your website.
WebFindYou's All-In-One Digital Marketing Technology simplifies the integration of email marketing with all the essential digital marketing tools you need to maximize your brand on the Internet. You will increase your company's revenues with less hassle and at a price that is affordable. Discover the most effective way to optimize your email marketing campaigns and reach digital marketing success. You can call us at tag.SiteTelephoneHtml or fill the
contact form
. We will be happy to answer all your questions and provide all the information you need!
If you found this article helpful then let us know in the comments section below. Likewise, feel free to share it using the share options below. Want us to cover another topic of your interest pertaining to digital marketing? If so, then like us and follow us on social media, and post to any of our social media profiles the topic you'd like us to discuss:
Facebook WebFindYou
,
Instagram @WebFindYou
and
Twitter @WebFindYou
.