Chatbot: The New Alternative in Online Customer Service
4 min read
August 15, 2018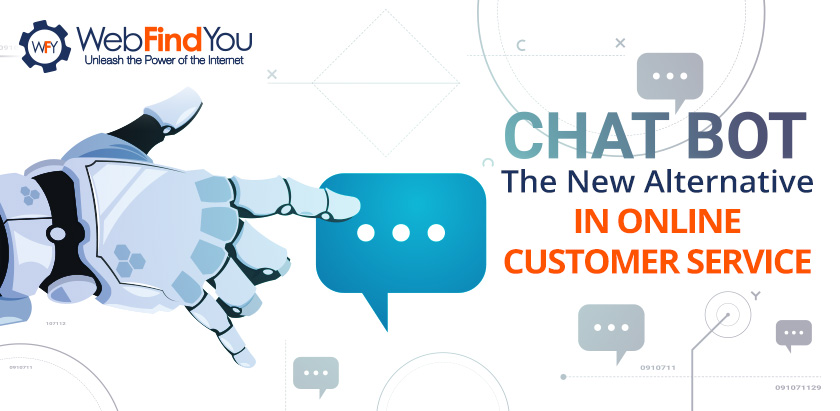 One of the most important aspects for any business selling a product or a service is the possession of a proper customer support system. The way a company treats customers can shed light on the company itself and its management; proper attention from the company and user experience are decisive factors in the customer's overall opinion. If you fail at this, it might spur an unwanted chain reaction that can be detrimental to your business. This is why creating a customer service system destined to satisfy the customer's need in an immediate, friendly, and simple manner must be a priority.
Moreover, it is vital to count on an optimal tool to provide online assistance for the public asking about the product or service offered on your website. In the past, the usual way to help customers was hiring a specific person to handle the task. However, the hiring process of new staff, along with other factors such as the waiting time involved for customers, has led to this system being branded as expensive and inefficient. This can drive potential customers off the site before the completion of any purchase or inquiry.
These days, after many years of technological evolution, an innovative form of customer service has been implemented that forgoes the need for a real person, clarifying the doubt or consultation a user has at a specific time: chatbots.
What is a Chatbot?
Chatbot is the term used for software that commonly works with AI Technology and serves the purpose of employing its capabilities to understand natural language and answer any question or inquiry a person may have. In business, chatbots have become a crucial tool for many areas in the market looking to improve and speed up customer service within a website. In fact, according to reports from Gartner,
by 2020 over 80% of companies will be using chatbots instead of real people
, and potential customers will be getting the attention they deserve 24/7. This means that immediacy will become one of the software's most important advantages because most people look for quick answers and prefer to leave the site altogether if they can't find them.
Advantages of Using a Chatbot on Your Website
The implementation of a chatbot on your website is an excellent way to engage visitors. It encourages proximity while optimizing each process within the business. Advantages of a Chatbot include:
Fully available for customers 24 hours a day.
A low-cost alternative.
Immediacy; Its automated nature ensures users a quick answer to their questions.
Data storage capacity allows the company to be informed about customers' behaviors. This includes people's most pressing concerns, as well as their suggestions and opinions about any product or service being offered on the site.
Thanks to its capacity for intelligence, compression, and storage, it can expand its knowledge and, therefore, answer a greater number of questions.
Yes, I Want a Chatbot for My Website. Where Can I Get It?
The market is filled with different types of chatbots and providers to choose from. You must, however, assess your options beforehand because your goal is to find the most suitable option for your company, whether your business is linked to traveling, finances, fashion, technology, etc. The main purpose is creating a good user experience for all your leads and to make them want to become recurring customers. It sounds like a difficult task, doesn't it? Especially because the process of keeping customers goes beyond using a chatbot.
But what would you say if you had a digital marketing technology that didn't just offer the implementation of a chatbot to your website, but an integral platform to make the implementation of true digital marketing possible with less hassle, reduced costs, and increased revenues?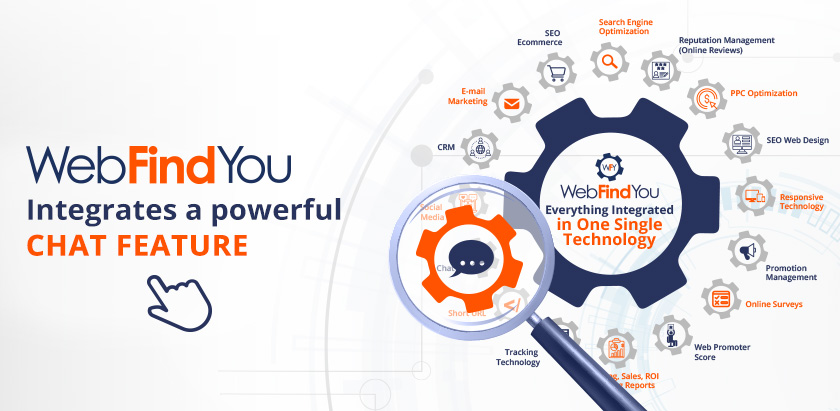 WebFindYou, All-In-One Digital Marketing Technology
WebFindYou is the answer. We have everything you need to implement a true digital marketing strategy. The WebFindYou All-in-One Digital Marketing Technology is the first and only way to ensure your company's marketing meets the demands of the digital age. We provide all the essential components necessary for success in today's online world.
At WebFindYou, we know how important, yet difficult, it is to keep up with everything going on in the digital world. We understand how important it is to have a digital marketing platform capable of doing everything digital while responding to the latest Google changes and marketing trends. This is why we created WebFindYou in 2009, and why we have been consistently enhancing our technology ever since. By using the WebFindYou technology, you ensure your website and digital marketing will always be in line with Google's changes and the latest marketing trends because either the WebFindYou technology will auto-update to manage these changes for you or you will be notified of changes that need to be made with simple step by step text and video guides for you, your internal team, your marketing agency, or someone you contracted from the WebFindYou Marketplace.
WebFindYou is the only company world-wide offering this tremendous time-savings and less-complicated value. We are the only All-in-One Digital Marketing Technology that exists. If you are not using WebFindYou for your business, we suggest you follow our
Latest News
and
Blogs
,
subscribe to our newsletter
, and follow us on social media to be informed of the important issues affecting digital marketing and how WebFindYou continues to make them less complicated, with lower costs and greater revenues.
Simply follow these easy to follow steps to get started:
You'll receive an email to access the WebFindYou platform for your website.
Follow the very easy to follow videos to implement WebFindYou for your business.
For questions, please call us at 1-866-SEO-WEBS (736-9327), fill out our contact form, subscribe to our newsletter or follow us on social media to stay informed of everything WebFindYou including webinars and live speaking events.
If you found this article helpful then let us know in the comments section below. Likewise, feel free to share it using the share options below. Want us to cover another topic of your interest pertaining to digital marketing? If so, then like us and follow us on social media, and post to any of our social media profiles the topic you'd like us to discuss:
Facebook WebFindYou
,
Instagram @WebFindYou
and
Twitter @WebFindYou
.