Discover Facebook's 20 Most Important Updates for Digital Marketing
August 01, 2018
As everyone knows by now, social media plays an essential role when it's time to develop digital marketing campaigns and the strategies needed to generate good results. It's simple. The number of users building their lives within social media and turning it into a valuable tool can help you boost your business. Today, our focus will be kept on one platform in particular: Facebook.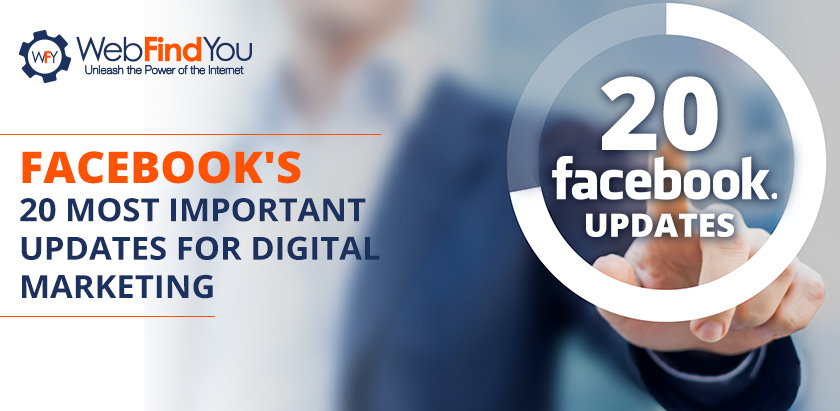 Facebook is a social media platform developed by Mark Zuckerberg. It now has over 2 billion active users. Many would say it is an "old social network". However, the amount of people who still have it as their primary source of information and entertainment is clear indication that Facebook is still a very relevant platform, which is why companies should take advantage of its possibilities. To do this, though, you must create quality content that invites potential customers to get to know their brands more thoroughly.
Facebook has always been known for being a highly competitive enterprise. It is always updating and evolving to maintain an innovative and interesting status in comparison to other social media platforms working as its competitors (Twitter, Snapchat, etc), so there is a daily effort to add more features and internal applications to simplify the interactions among its users and brands.
For companies and business owners in the midst of applying digital marketing and social media marketing strategies, it is important to keep up with all the new developments. This is why, at WebFindYou we want to show you
Facebook's twenty most important recent updates for digital marketing: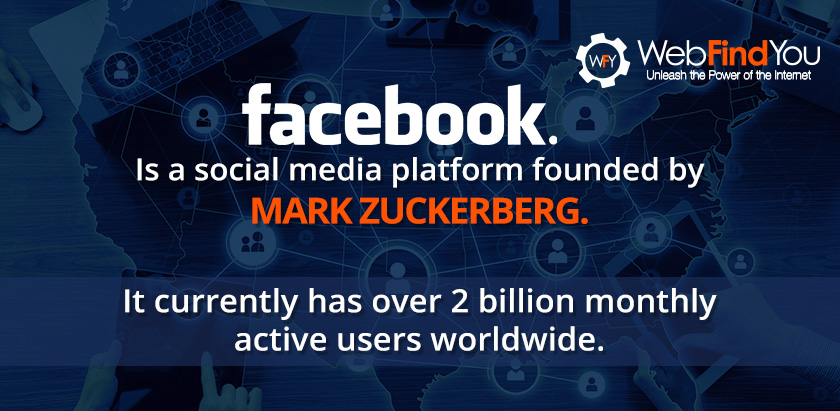 Custom Audiences and the Changes in Terms of Service & Data Use Policies
To avoid any inconveniences when working on marketing strategies on Facebook, you should be aware of updates such as this one. Custom Audiences is a Facebook tool that allows you to create lists with email addresses, telephone numbers, or websites from either audiences or groups of users fulfilling similar parameters to those pursued outside of the social media platform.

With this resource, Facebook decided to change the tool as a way to safeguard the user's information within the platform, so the update has the purpose of preventing publicists from abusing information. Now, publicists will have to verify the user's consent and the users, in turn, will also have the choice of confirming said approval.


Facebook Page Manager: The Great Ally for a Community Manager
This Facebook tool will bring a lot of support to those managing social media, as the person will be able to handle Facebook, Instagram, and Messenger accounts from a single app. In the past, only three channels were permitted in an independent manner. Now, everything works as a unit.


Facebook's Algorithm and Searching Valuable Content in Pages or Users
With this update demanded by Zuckerberg, companies' pages will have to show their owner's effort in publishing valuable content to make themselves visible to the audience, as the change made in the algorithm will determine which posts will be shown on Facebook users' News Feed, based on the kind of interaction these posts generate in the audience.

Facebook will assess the popularity of content posted and give more weight to those posts that incite conversations and interactions of real value among users. This way, healthy and entertaining debates are promoted and discourses over certain controversial topics are avoided. According to official statements, some priority posts would be those conveying advice, recommendations, or articles that give way to discussion.


A New Way of Interaction With Your Audience: Voice Stories
After having introduced a feature similar to Snapchat, Facebook Stories became an exercise in trial and error that left its creators with a bittersweet aftertaste. However, the demanded update for Mark Zuckerberg's Social Media platform promises to bring a new form of interaction that will boost this feature within the platform. It may be a valuable tool for a business to leverage.

It's an integration of voice messaging to the already existing Stories, so now users can communicate via a new option labeled "audio" and share their interest and opinions directly to the social media platform. This audio feature includes the possibility of being accompanied by background pictures or videos.


Facebook Introduces Pre-Roll Ads
In case you weren't familiar with them, pre-roll ads are those pieces of video advertisement released before or during a video. Yes, we're talking about those usually bothersome and unwanted additions to the content on Youtube and other platforms. If you manage to create a quality pre-roll video ad, it can be very lucrative for your business, and Facebook has found a way to include them into their Watch section. With this, the social media platform looks for a win-win type of relationship by offering quality content, as well as an option to help ads creators.


The Social Media Platform Provides New Tools to Lookalike Audience
For businesses trusting their publicity to Facebook and using tools like Custom Audience or Lookalike Audience to boost and expand their public, the social media platform now offers the possibility to reach the audience in a more effortless manner. Among the new features implemented on Facebook, there are added options to automatically adjust the language to the user's own, an optimized lead searching tool, segmentation by city, and the discovery of new markets.


Implementation of GIFs to Surveys
While this may seem like an insignificant or even pointless modification, current social media users (Yes, even Facebook) look for visual content and grow attracted to posts containing trending topics or elements. In this case, GIF implementation within Facebook surveys should not be an underestimated improvement; companies wishing to draw in more public should make the best of it. This method of asking questions and knowing opinions via moving images is a smart way of creating effective interactions or participations, especially among younger users.


In early 2018, Facebook Gets Rid of Deficient Metrics for Publicists
After the controversies unleashed by the social media company's admission of two years' worth of measuring problems within their metrics, Facebook found the way to keep their announcers' trust and got rid of metrics releasing redundant, unclear, or obsolete results.

Among the metrics removed by Facebook, we can name:

Button Clicks.
Today's spend.
Page Mentions.
Time percentage of canvas components.
Sequence Image.
Destination after clicking a link.
Conversion value on actions in a mobile app.
Visits to the page's tabs.
Facebook Stories for Corporative Pages
Just like in Instagram or Snapchat, Facebook Stories have the same marketing purposes. The "Stories", being such a popular element in social media, have become an ideal tool to develop marketing campaigns. Similarly, companies can now experiment when uploading Facebook Stories for promotion or entertainment into their page within the platform.
An Important Consideration for Companies Working with Facebook Ads
The social media platform has now enforced an important change for companies working with the Facebook Ads platform as an effort to reduce the number of involuntary clicks in advertisements, specifically the people clicking on an ad by mistake or leaving the page before the three-second mark. This is done with the purpose of reaching a clear distinction between accidental clicks and real ones.
The Creation of Groups Within Pages in the Social Media Platform
This integration completed by Zuckerberg granted a great opportunity for companies to create communities with their target audiences, as well as the chance to invite potential customers to comment on the main topic, product, or service in their business. This is the main reason for adding groups to Facebook pages. It allows companies to develop strategies to connect with their audiences.
Public Chatrooms
The inclusion of public chatrooms into Facebook gives a company the chance to promote, discuss, know, and invite users from the social media platform -in any part of the world- to know about their products or services.
Goodbye, Facebook Cover Picture. Hello, Video-Covers
We've stated in other sections that people nowadays are mostly visual, which is why Facebook has been progressively introducing and promoting visual content on its platform. Now, when your clients or leads enter your company's page, they may feel instantly drawn to your cover, as the social media platform integrated something more than just images: videos. The video covers on your page will help you get the attention of users entering your page for the first time, so you must develop an effective strategy to make the best out of this improvement.
Facebook Imposes Measures to Control Fake News
After the scandal involving Facebook and Cambridge Analytica, the CEO of the social media platform has given priority to the task of eradicating and exercising full control over fake news. This is also a measure taken to protect the users' privacy by stopping any important information about them from spreading. In this manner, editors will have to verify their domain on Facebook whenever they want to publish or edit something on the platform.
Facebook Collections
If your business is oriented toward product sales, whether of clothing, home appliances, property, etc, Facebook Collections will probably become your favorite tool from now on. This feature created for pages within the platform is very similar to Canvas, allowing the integration of a catalog into a post. However, Facebook Collections is an innovative resource that offers the selection of featured videos, stories, or pictures, providing companies with more opportunities to create effective strategies for content and sales.
Facebook Now Offers the Opportunity to Show More Variety in Ecommerce Ads
Despite news circulating about the social media platform being saturated with advertisement, nothing stopped Facebook from upgrading their brand advertising even further, as Ecommerce companies will now have the chance to show a variety of merchandise in multi-product advertisements; this "double-click" system consists of users clicking on the "show more" button and being greeted with more products than before. In addition, by clicking again, users will be directed to the brand's website.
If You're Part of Delivery.com or Slice, Facebook Brings a New Advantage to You
If you own a food business in the United States and you're affiliated with Delivery.com or Slice, Facebook provides the option for customers to order meals from your page, an alternative that's worth exploring in order to find creative methods to motivate users to make purchases in your feed.
Facebook Has a Marketplace
The advantages a Marketplace can bring for a business are endless, a concept that Mark Zuckerberg seems to support very strongly. After failing at his first attempt in 2007, Facebook's CEO gave it another try with the introduction of a renovated Marketplace for the sale and purchase of any kind of product. The best features coming with this updated tool are: geolocation, immediacy, great public reach, and reliability.
The Platform Keeps an Eye on Posts Requesting Interactions
For a couple of years, Zuckerberg has been trying to fight people that use misleading posts to generate more likes, shares, and comments, not only because most of these posts are spam, but also because of the controversy such irrelevant posts might cause. For this reason, Facebook has developed a way to penalize users resorting to "engagement bait", through an evaluation of the content in a post, and a particular procedure according to each case.
You Can Now Save Your Files on the Facebook Cloud
Facebook recently announced that users will get the chance to save their files, like pictures or videos, within the platform, and see them in the cloud to save space on their phones. This also gives you the option of having files at your disposal in case you ever wish to upload them.
All of these new features will be of great help for users to develop the strategies needed for a successful Digital Marketing campaign on Facebook. The platform represents an important piece in the process of developing true Digital Marketing strategy, and with the right information, you can leverage the platform as an effective advertising tool.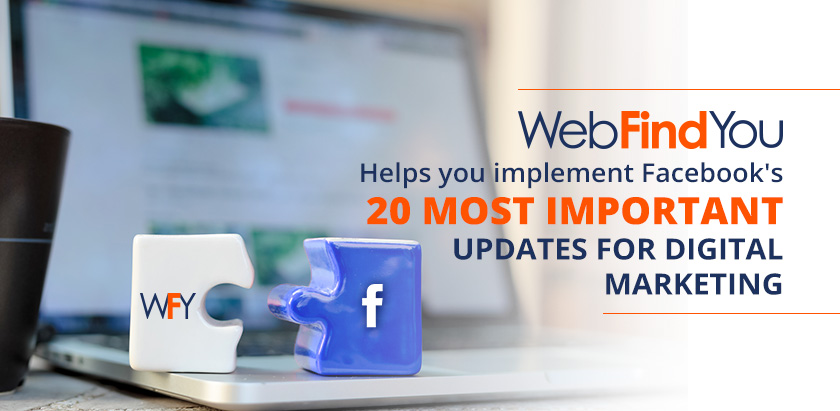 WebFindYou Helps You Implement All These Updates to Reach Results Within the Platform

If you feel you lack the knowledge to apply these features or you don't know where to start and how much to invest in them, don't worry: WebFindYou is here to help you! With our technology, you won't have to worry about keeping tabs on these constant changes because we will keep you informed about all of them. WebFindYou is constantly updating itself to achieve the management and control of the needed tools to be successful in digital marketing.

As we have previously mentioned, Facebook has over 2 billion monthly active users all over the world, so if you don't exercise effective digital marketing management on Facebook and other social media platforms, you'll miss a great opportunity to maximize your business. Among our coming updates, there will be a chance for you to manage all your social media posts from WebFindYou, along with the option to publish them in your social media profiles and schedule them to be posted on particular hours and dates, the same way it is done with the popular social media tool, Hootsuite.

WebFindYou, however, will be a superior option because you'll be able to easily determine the keyword density within your social media platform to help you with your digital marketing and SEO.

Do you wish to know more about our All-In-One Digital Marketing Technology? Fill our contact form today or call us at 1-866-SEO-WEBS (736-9327). We'll be happy to assist you!

If you found this article helpful then let us know in the comments section below. Likewise, feel free to share it using the share options below. Want us to cover another topic of your interest pertaining to digital marketing? If so, then like us and follow us on social media, and post to any of our social media profiles the topic you'd like us to discuss: Facebook WebFindYou, Instagram @WebFindYou and Twitter @WebFindYou.