Facebook Plans to Unify WhatsApp, Instagram, and Facebook Messenger in One Single Service
min read
February 27, 2019
Facebook has been the center of attention during many controversies, having faced criticism for problems affecting the platform and its users. This, however, isn't enough to reduce the site's popularity as one of the most popular social platforms on the Internet and users have been constantly surprised by new updates, improvements, and features in the course of the last few years. With this, Mark Zuckerberg succeeds in his goal of keeping the public's attention on Facebook, expanding the site with more diversified resources to earn the user's interest and engagement.
We only have to look at the series of updates introduced by Facebook in 2018 to have a clear picture of Zuckerberg's purpose. It's important to stay close to the latest innovations in order to effectively compete against rivals like Twitter, Snapchat, and even Instagram, a platform that's currently part of Zuckerberg's company. This is the best way to guarantee optimal user experience.
This is how, amidst many efforts to simplify communication among active users in Zuckerberg's platforms, there were several reports suggesting a possible unification between WhatsApp's instant messaging app, Facebook Messenger, and Instagram under one single inbox.
Facebook and the Acquisition of Instagram and WhatsApp
Above all, let's remember that Facebook managed to purchase Instagram back in 2012 for a sum of 1 billion dollars and two years later acquired the legal rights to WhatsApp, which remains the most popular instant messaging app on the market. Both purchases have effectively turned two direct competitors into assets to Facebook's messaging service.
Now comes the opportunity to take advantage of these acquisitions while simplifying the communication kept between users on the social platform. Facebook's CEO is pushing new boundaries with an integration that goes beyond traditional strategies: the merging of three messaging routes (Instagram DM, WhatsApp, and Facebook Messenger) in an end-to-end encryption that reduces the time spent going from one app to the other.
What Do we Know About this Unification?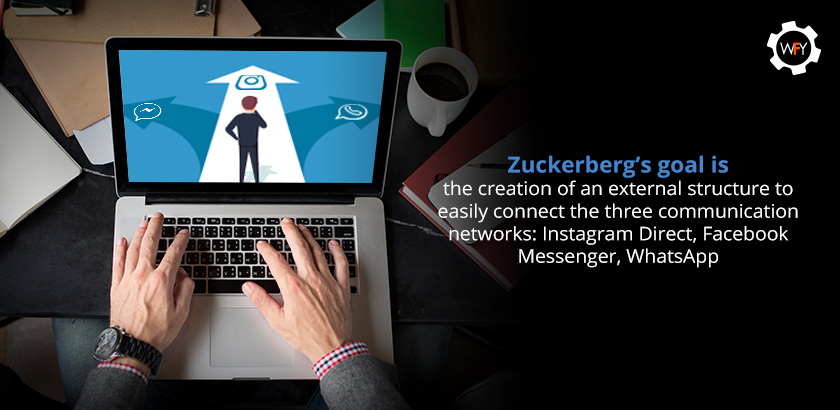 The information released by
The New York Times
states that Zuckerberg's idea keeps all three apps operating separately. They are not going to be merged into one single platform. An external structure will be created to easily connect the three communication networks. Among other benefits, this would simplify the communication between companies and customers.
The envisioned structure would look like an inbox where users can manage all the messages they get from Instagram Direct, Facebook Messenger, and WhatsApp. At the moment, the tool is operational only for businesses, helping them control the influx of messages they constantly receive via Facebook Messenger and other apps.
The estimated date for this project to be completed is 2020, when users will be able to see for themselves the unification of these messaging services in one structure.
Why is Simplification so Important?
When it comes to the operations performed by businesses on the Internet (since Facebook has developed this inbox structure with the purpose of optimizing all strategies on its business pages) the simplification of these procedures reduces the time invested in several simultaneous tasks simply by having the possibility of executing them in one single place. The effort is more evenly distributed when we can remove that stage of the process where we use different tools to complete each task.
The progress made in the execution of multiple tasks still hasn't reached its peak; recent digital innovations have started proving that less is more. In this minimalistic trend, smart devices are becoming more compact, as well as more attractive in their simplicity.
All this points to a possible solution that benefits people and online businesses in equal measures. The time taken into multitasking will be reduced and businesses can even save considerable parts of their budgets having all the tools they need in one single place. It would be ideal, right?
WebFindYou, All-In-One Digital Marketing Technology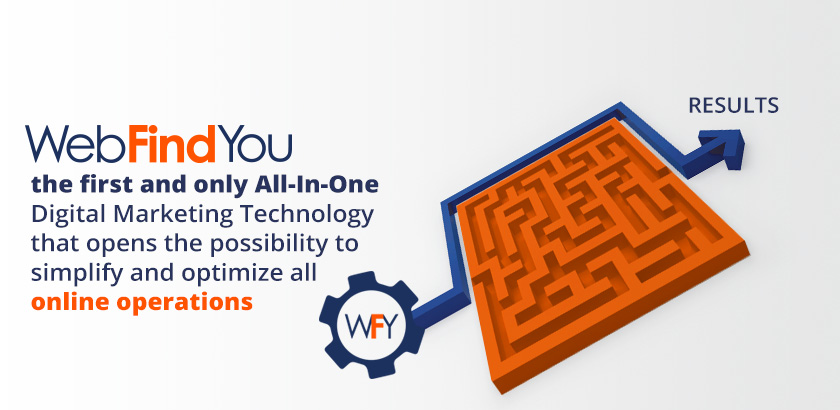 This ideal scenario can be a reality with WebFindYou! WebFindYou is the first and only All-In-One Digital Marketing Technology that simplifies all digital marketing strategies, integrating more than 20 vital tools for the execution of digital marketing in one single technology. Your company will have the chance to develop its online strategy implementing
true digital marketing
with less hassle, reduced costs, and increased revenues.
Our main goal is to provide a solution to the problems that take place when companies have to waste time and money with different digital marketing providers. We aim to help, guide, and teach people how to stay on the right path while they follow each step needed to complete a true digital marketing strategy. This solution will be within the reach for
92% of the market lacking the budget to afford true digital marketing
. Businesses and entrepreneurs will finally see positive results thanks to WebFindYou's integrated technology.
Join WebFindYou's Technology
If you want more information about our integrated technology, you can always call us at
1-866-SEO-WEBS (736-9327)
or fill out our
contact form
. We will be happy to assist you!
If you found this article helpful then let us know in the comments section below. Likewise, feel free to share it using the share options below. Want us to cover another topic of your interest pertaining to digital marketing? If so, then like us and follow us on social media, and post to any of our social media profiles the topic you'd like us to discuss:
Facebook WebFindYou
,
Instagram @WebFindYou
and
Twitter @WebFindYou
.