Google in 2018: The Most Important Updates
February 01, 2019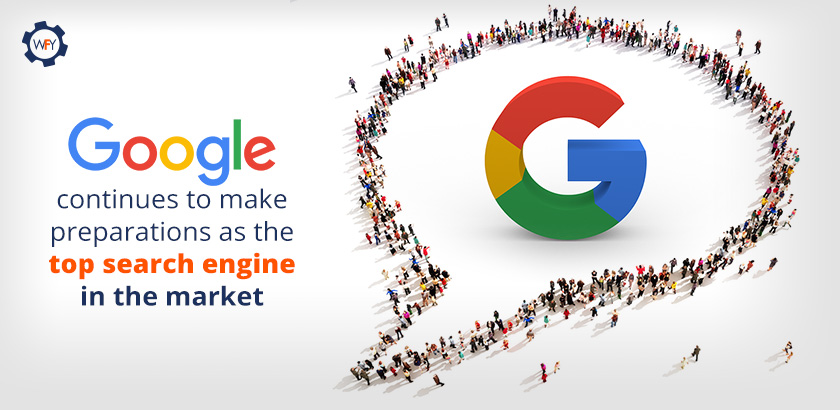 When we remember that by 2018 the amount of active Internet users translated into
a penetration of 53%, with 4 billion users worldwide
, we take notice of a considerable increase from the 3 billion users reported back in 2017. Under such circumstances, it's no surprise that Google is putting so much effort into maintaining the top spot among online search engines in the market.
Google has always stood out for a constant effort to innovate on all possible fronts. Thanks to a long string of updates introduced in the last few years, the tech giant has released numerous apps, algorithm modifications, new features, and even a make-over to better portray the constant search for functionality and simplicity.
In 2018, Google continued introducing improvements to the public, with a series of updates that WebFindYou will now present to you in order to help you identify what's in store for 2019:
The Most Important Updates of 2018
The Introduction of Google Pay
In January of 2018, Google announced that Android Pay (an app developed for transactions via mobile) would become Google Pay, effectively merging Android Pay and Google Wallet.

The decision to combine both apps came with the purpose of simplifying online shopping and making the process faster for users making purchases via mobile. In fact, one of the novelties that came with Google Pay was the chance to access your payment data and make purchases via YouTube Red, Google Play Store, Airbnb services, etc.


The Option to Mute Remarketing Ads
In case you are not familiar with this term, remarketing refers to the ability of attracting users that have previously visited your website, with targeted advertising inviting them to learn more about your products/services. The goal is to draw users to your brand and to entice them to become customers.

In short, it's about ads that show up while we browse Google or any other website, all of which come from websites we've visited in the past. Since January of 2018, users can "mute" or turn off these ads thanks to new features within Ads Settings.

This improvement takes the form of a new control panel that users will find in their settings (Your Reminder Ads) where ads can be individually selected for users to stop seeing them. This is a relevant change that will affect the strategies implemented by advertisers, meaning they will have to redouble their efforts to attract people with their ads or they'll be at risk of losing visibility with potential customers.


New Importance of Load Speed on Mobile Devices
Many statistics serve as proof of how important it is to have optimal load speed if we want our websites to be popular and increase in traffic. Internet users don't like waiting. Whether on tablets, laptops, or desktops, users will abandon a website if it takes more than 3 seconds to load.

Google made the best of the fact that current users prefer to do their searches via mobile, implementing Mobile First Index to give priority to mobile friendly websites, especially when the sites integrate an optimal load speed. Make no mistakes, this is just one more element to consider for organic SEO. Valuable content is still a major factor that determines the ranks of each result in the search engine.


Ability to Send and Receive Money via Google Pay
Back in July of 2018, a few months after Google Pay was launched, the tech giant introduced another modification in its e-payment system. This time, Google included the option for users to transfer money to close friends or family and buy tickets for events, trips, etc.


Google Discover
In September of 2018, Google presented Google Discover, a feed meant to simplify the way users look for news of any kind; this new app sorts the most relevant news in a list, with specific categories created to satisfy the user interests.


Home Hub
In 2018, the company decided to continue in the race within the market of AI-assisted devices, with the release of Home Hub. Home Hub is a device supported by Google Assistant that works through a speaker mechanism and a screen. Designed to simplify house chores, Home Hub stands out from other intelligent speaker assistants (like the ones developed by Amazon and Facebook) by not including an integrated camera on the device.


Google+ says Goodbye
With the controversy unleashed by the accidental leak of personal user data, Google decided to stop operations on Google+. Another important factor that contributed to this decision was the low traffic of active users during the 7 years that the social platform was active.
WebFindYou Helps you Keep Up with All the Important Updates!
As you can see, Google is still releasing new apps, tools, and features to improve user experience, and we can expect this to continue during 2019. You, as a growing business, must keep up with all these updates and make the best of them in your digital marketing strategy.
We know, however, that not all business people have enough time to follow these changes. This is why WebFindYou was created. We help you simplify the implementation of True Digital Marketing with the only All-In-One Digital Marketing Technology. Our goal is to provide the best and most extensive support to our clients.
If you are using, or want to start using new apps from Google's ever-changing platform and need support from experts in the area, you can easily contact us by filling out our
contact form
or calling us at
1-866-SEO-WEBS (736-9327)
. We will be happy to assist you!
If you found this article helpful then let us know in the comments section below. Likewise, feel free to share it using the share options below. Want us to cover another topic of your interest pertaining to digital marketing? If so, then like us and follow us on social media, and post to any of our social media profiles the topic you'd like us to discuss:
Facebook WebFindYou
,
Instagram @WebFindYou
and
Twitter @WebFindYou
.