The 15 Most Common SEO Mistakes
min read
September 05, 2018
Any business undergoing a migration to the Internet should have a clear SEO strategy. If your company still lacks a strategy, what are you waiting for? SEO is a key factor to the success of your online business. Its purpose is to boost your website to the top positions in popular search engines (like Google) using an array of methods that include content, keywords, and resources, both on-page and off-page.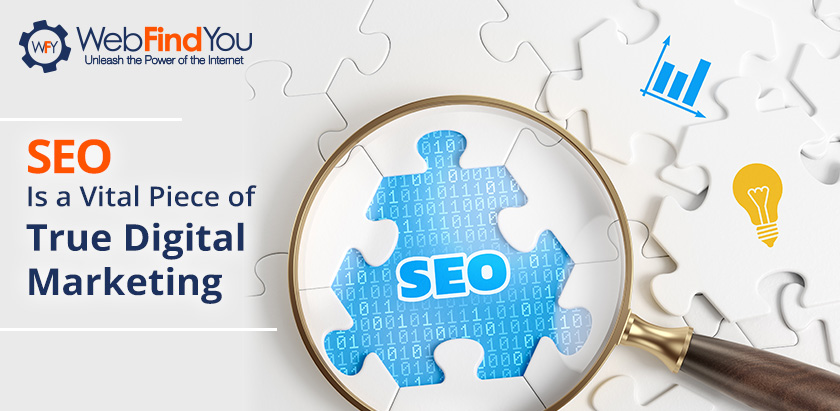 Through all its
evolution
, SEO remains a vital piece of true digital marketing; it's one of the key strategies used to help position a brand within search engines, which in turn positions the brand in the minds of consumers. SEO allows us to achieve a better online presence, giving you more web visibility, increased traffic, and better revenues.
While it's clear that SEO must be a part of any digital marketing campaign, it should also be pointed out that it's not easy to learn everything necessary to position a website; you need to perform a number of tests to assess the effectiveness of each project on an individual basis. Trial and error is one of the ways to help you avoid penalties or permanent consequences that may result from poor strategy. Another way you can do this is by learning and understanding the common SEO mistakes many people make.
At WebFindYou, we want your company to become relevant in search engines while maximizing its results and avoiding major mistakes in the process. For this reason, we want to present the 15 most common SEO mistakes made worldwide.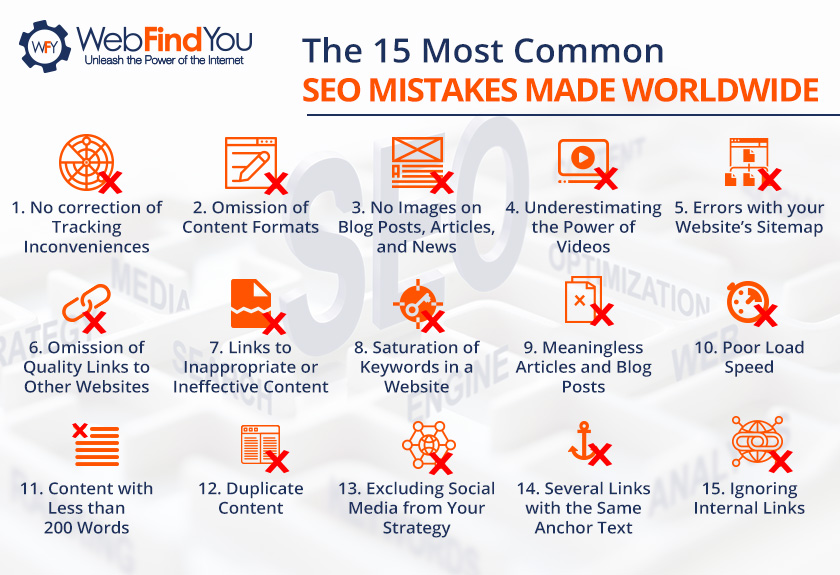 No correction of Tracking Inconveniences
Many troubles can arise on a technical level. Some of the most relevant problems are related to traceability. It's important to own a website that's accessible. This ensures an effective presence on the net. SEMrush analyzed a series of websites and reported that some of the most frequent tracking mistakes are broken links (33%), Sitemap errors (19%), and structural failures on certain URLs.


Omission of Content Formats
Bold, italic, bullet, and other HTML tags are formats that give shape to our content, whether it is an article, a news post, or other pages. Keywords are included in this. They help create a text that is both legible and aesthetically pleasing while telling the search engine that the content itself is valuable. They show which keywords are meant to be positioned, so they shouldn't be ignored as an essential part of a SEO strategy.


No Images on Blog Posts, Articles, and News
People are mostly visual these days, so it's appropriate to integrate images in a content strategy that invites a reader to learn more about a particular topic. Putting images on blogs, news, and articles goes beyond simply attracting an audience. It plays an important role for SEO. What do we mean by this? If you have keywords you want to position, descriptions and alternative texts complemented by images will provide a chance to include keywords and boost your online presence.


Underestimating the Power of Videos
Having content with no videos on your website may not affect your online presence, but you might be losing a big opportunity to get better results. Videos have more power than you think; when you put videos in your article, on your home page, or in any other page in the established strategy, users will watch them. This will increase the time they spend on your website considerably. Google recognizes this and gives your website more validity.


Errors with your Website's Sitemap
If you're not clear on what a sitemap is, let us explain: a sitemap is a list of all the indexed pages within your website. A sitemap is meant to provide search engine bots with better access to the site. It can be thought of as the heart of the site. It is the main guide for these bots, so keeping a sitemap in optimal condition is crucial for your SEO strategy. According to SEMrush, some of the most common problems involving a sitemap are format errors (13%), sitemaps not found by search engine bots (19%), and the presence of wrong pages in the sitemap (10%).


Omission of Quality Links to Other Websites
Giving credit to sources you use to support text in a blog post or an article is a matter of responsibility and professional ethics. In SEO, this is important for other reasons. Linking other websites, whether about a related topic or because they were helpful to your own blog post/article, is essential when it comes to positioning your site. Google recognizes any content that includes valuable links to other sites.


Links to Inappropriate or Ineffective Content
Relating to the information above, when we talk about links to other sites, we mean quality websites that can provide valuable content to visitors. Avoid including links to sites with content unrelated to the topic on your page. It is not worth being penalized by Google for adding poor or inappropriate (adult) content. It is better to avoid such risks and help your business position itself online with an efficient system that makes the best of your external links.


Saturation of Keywords in a Website
A grave mistake you must avoid at all costs is the abuse of keywords within your website. We all know that SEO is about creating strategies with keyword targets that will increase a company's online presence. A common mistake, however, is that once a keyword proves to be effective, it's used in every blog post or article. This is a mistake that can hurt you. Overusing keywords will only prevent Google from identifying the page most relevant to a keyword. You run the risk of being excluded from the search engine altogether. The goal with SEO and keywords is to find a balance that allows you to position yourself in a manner that is seamless and natural. This is an art unto itself.


Meaningless Articles and Blog Posts
To close the subject of keywords, a nice example of overusing is the presence of articles and blog posts comprised of nothing but a senseless jumble of keywords in an attempt to force optimization. The goal should always be to create and provide valuable content that's useful for your audience while including keywords that fit comfortably within the context of the content.


Poor Load Speed
This one has a very simple explanation: immediacy is a key factor that determines whether the user experience is positive or negative. According to a survey, 47% of people expect a website to load in two seconds or less, with 40% of users abandoning sites that take longer than 3 seconds to load. As you can see, Internet users are not fond of waiting, and the decrease in traffic may affect the positioning of your website. Be sure to take precautions so you have a quick solution at hand if slow-loading pages become an issue on your website.


Content with Less than 200 Words
We are not talking about descriptions of products or services. They are considered part of the content as well, but this rule doesn't apply to them unless you wish to optimize them; if so, be mindful of point 8 of this blog post. When it comes to blog posts or articles you want to optimize, the recommendation is to have a minimum of 350 words (meaningful and legible). This way, your articles/blog posts will be read as valuable content and will get priority from Google. According to SEMrush, 73% of content-related problems comes with the reduced number of words per piece. The longer the piece, the more valuable it can be. Keep in mind, though, that today's Internet browsers have a short attention span, so too long is not good either. It's all about striking the right balance.


Duplicate Content
This is a complex topic because Google's algorithm has a series of different interpretations when it comes to duplicate content. Duplicate content could be copying text from another website, copying an image, or even a site's URL, like www.WFY.com, WFY.com/, or www.WFY.com/index.php. You must be very careful when dealing with this matter. If Google finds duplicate content in your website, it might take you out of all search engine results. This post by Google provides useful information on the topic.



Excluding Social Media from Your Strategy
Here's a little nugget of information to consider. Google has an agreement with Twitter allowing the use of Twitter's data to discover new content. This means that keeping social media out of your SEO strategy is the wrong move. In fact, it doesn't have to be exclusively about Google. Social media plays an important role in boosting your business. Social media gives you more chances to engage potential customers, bring more visits to your website, and help create better results that will turn your website into a valuable site. This means better positioning in Google's search engine.


Several Links with the Same Anchor Text
Avoid links to other websites under the same anchor text or keyword. In these cases, in would be ideal to use derivatives, synonyms, the same link, or a similar keyword. If you use the same anchor text too much, Google may read the links as unnatural links, which could affect your ranking negatively.


Ignoring Internal Links
Fluidity in your website is a key element for increasing traffic and positioning your website. Including internal links in your blog posts and articles is a great way to invite users to read more content on your website, including contact forms and other articles or blog posts. This will help Google position your website according to its fluidity.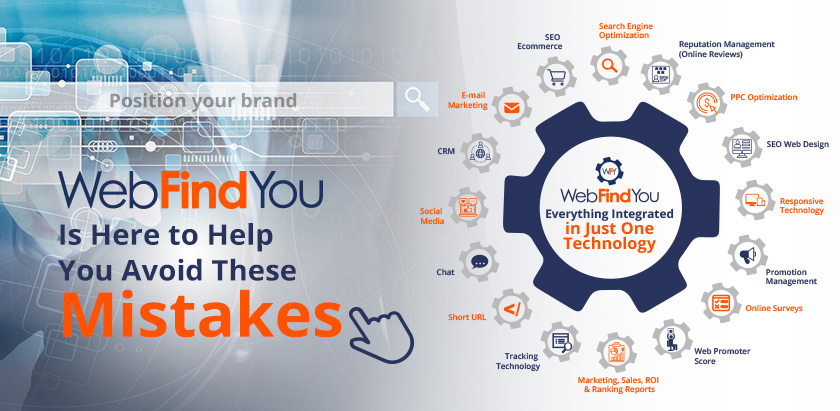 WebFindYou is Here to Help You Avoid These Mistakes
Search Engine Optimization (SEO) is the process that helps your website occupy a featured spot in the top results in search engines like Google and Bing.
There are three main steps necessary to correctly implement SEO and to help you secure a spot in search engines:
Technical requirements your website must fulfill.
A correct definition of the business's identity (content).
Validation for what you claim to be as a business (backlink).
WebFindYou automatically manages Step 1 and reduces 50% of the work involved in Step 2, making the SEO process 50% more efficient while saving you time and money. As Google modifies its formula, WebFindYou manages all the needed technical elements and notifies you about content changes you may have to start applying to your website. This entails SEO management that is superior to any other option in the market.
We know Google changes its algorithm daily. Can you afford to lose revenues because you, your webmaster, marketing company, or internal marketing team don't know about one of these daily Google updates, or because your website wasn't updated in time, causing a drop in rankings and a loss of substantial revenues as a result? With WebFindYou, you can sleep easy at night knowing your website is constantly on the right path for maximum SEO success.
If you wish to maximize your revenues and your results in digital marketing, don't waste more time making mistakes that could potentially cost you your business. Contact us today by filling out the
contact form
or by calling
1-866-SEO-WEBS (736-9327)
. Guide your business down the road to success with the only All-In-One Digital Marketing Technology.
If you found this article helpful then let us know in the comments section below. Likewise, feel free to share it using the share options below. Want us to cover another topic of your interest pertaining to digital marketing? If so, then like us and follow us on social media, and post to any of our social media profiles the topic you'd like us to discuss:
Facebook WebFindYou
,
Instagram @WebFindYou
and
Twitter @WebFindYou
.