How the Google Penguin Update has Affected SEO Practices
4 min read
September 17, 2012
When the new Google Penguin algorithm hit, many people found their websites had been knocked down ten or more pages on Google. A drop of this magnitude can destroy a business if it is not dealt with quickly.
When Google's previous update, Panda, came out early in 2011, it cracked down on content mills, sites with alot of useless content created with the intention to get pushed higher in the search engines results. It affected approximately 12% of the overall search results. While some companies felt a massive hit from the Panda update, most companies were able to recover quickly. Removing any content from article spinners or outsourced content mills helped these sites gain speed on improving their rankings again.
For the Google Penguin algorithm, websites were evaluated and warned ahead of time that certain practices they may be engaging in could damage their positions significantly if they didn't make changes before the update launched in April 2012. Unfortunately, many people didn't pay much attention to the email, or figured they had plenty of time to make changes and then forgot to do so. Now, almost 5 months later, many websites are still feeling the effects of Google Penguin and are desperately trying to crawl out of a deep hole.
Calm Before the Storm
As stated, many people received emails ahead of time warning them that they needed to make changes to their website before Google Penguin rolled out, or they would be hit with steep ranking penalties. Many people reported receiving an email in early March that detailed the different things that the Google Penguin update would be looking for and how it would affect their personal or business website.
While many people took the letter very seriously and prepared for the switch, some people ignored it, forgot about it or never read it in the first place. These people were hit with a rude awakening on April 24, 2012.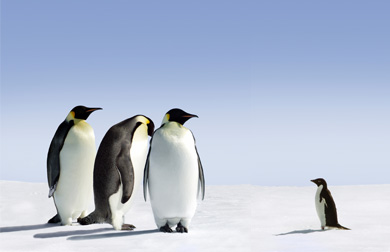 Google Penguin is Released
As the world woke up on April 24, 2012 and went to check their website analytics and/or search engine rankings, even those that had tried to prepare woke up to a shock. Many websites that previously ranked on the first page of Google for some highly competitive SEO keywords found themselves knocked down so many pages they would now rarely be found.
The rest of that day and following weeks would be busy for Internet marketing agencies, and SEO companies all over the world. Black Hat SEO tricks, such as link schemes, keyword stuffing and article spinners made SEO-based content quick and easy to produce, but the content was not carefully crafted and clearly lacked quality. Google wanted the sites that put the most real effort into their SEO practices to reap the rewards. For this reason, the Penguin update was born.
Initial Aftermath
As companies began to realize the true effects of the Google Penguin update, most reached out to their current SEO Company to figure out how to quickly fix the problem. With the new update though the only thing that was going to help companies regain their search engine rankings was hard work, quality research and time.
It became clear to all those affected by the update that Black Hat SEO had to go out the window completely. The fact was that many companies, while mostly employing reputable techniques, took a few shortcuts. Those few shortcuts were what truly did the most overall damage to otherwise high-quality websites.
Main Causes for Decreases in Search Engine Rankings
As more people became aware of the update, it became clear as to the main overall reasons that websites were being penalized. First of all, any website that had pages with keyword stuffing (an overabundance of a certain keyword in a small amount of text to the point where the content is nonsensical) were immediately penalized. Previously, keyword stuffing was penalized to a certain extent, but the new update really caught on, even to seemingly hidden pages.
Also, websites that posted content from article spinners (software that takes previously written content and "spins" it to make it appear original) were also heavily penalized. All that content had to be removed and replaced with new, original, high-quality content, which is, of course, a process that takes a great deal of time. It is also far more expensive than the work produced by article spinners or content mills.
Another major factor of the update was the crackdown on shady link schemes. Many people who were otherwise using White Hat SEO techniques felt the most pain from having purchased backlinks as a lazy way to get the word out about their site.
Thankfully, Google also sends out emails that notify the Webmaster if something on a particular site has been flagged as spam. Anything that gets flagged as spam should be immediately removed.
Current Practices
More companies now have to focus on the quality and length of the content they attribute to their websites. Also, backlinks must be appropriately acquired, so networking with others in a particular industry is good practice. SEO practices have basically become more scientific in a way, requiring certain formulas and quality parts to be successful.
As the Google Penguin algorithm continues to be updated and the effects become more evident, new quick fix tactics will be developed and eventually Google will come out with a new algorithm to eradicate those new practices. The best way to stay on top of the Google Penguin update and future updates is to hire a quality SEO company to provide the online marketing for the business. Quality companies will stay ahead of any future updates and make appropriate changes to a website before they get hit by devastating updates like Penguin.
---
WebFindYou is an internationally recognized Search Engine Optimization company headquartered out of Miami, Florida with over 20 years experience in Internet Marketing and Development. They have a broad range of clients from a wide spectrum of industries. WebFindYou is a market leader in the production of
SEO Websites
with a professional
SEO Web Design
that create and sustain better online visibility than just a normal website resulting in increased business sales. Contact them today at 866-SEO-WEBS and start letting the Web Find You.