The 3 Most Common Problems for Marketing Agencies and How WebFindYou Can Solve Them
October 18, 2018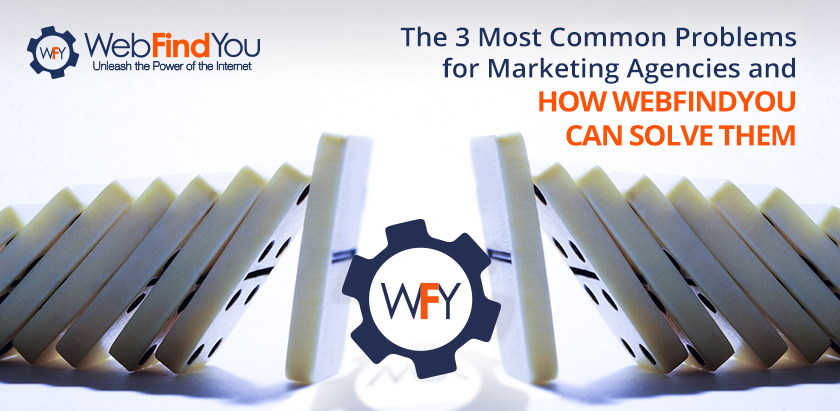 Marketing agencies offer options that help promote products, goods, and services through different off line and online strategies. These tactics are developed with the purpose of improving revenues for a brand to gain recognition in the market.
Each marketing agency (either digital or traditional) has a single goal: helping their clients gain more customers to increase their sales and popularity in the market. To accomplish this, an agency needs the best tools and resources, along with a capable staff with experience in all the areas involved in the development of a traditional (TV, radio, press) or digital (Internet, SEO, SEM, email marketing, reputation management, social media, etc) marketing campaign.
Competition continues to grow in today's market. Marketing agencies are not exempt from it. You only have to blink to find a new agency offering the same services, so a company looking for someone to manage their digital marketing faces a complex decision. It's hard to choose an option that fulfills all the expectations and delivers all the services involved in creating a marketing campaign. If you own a marketing agency, it is definitely time to step up your game.
This means you have to make your agency stand out among all the others. You must ask yourself: what makes us more affordable? Which are our most striking services?
Which of our options makes us more efficient?
If you don't have answers to these questions, it's time to ask yourself how to get better. Many marketing agencies are formed only by their standard services and don't put an effort into updating their resources. If attracting customers is the purpose driving your work, that should also suit your own business, right? Potential clients want services from an agency that keeps up with the trends, using that knowledge to create a marketing strategy with the most innovative resources available. If you get behind and don't make your agency stand out, your customers will eventually abandon you.
With so many options available, companies are very careful about working with a particular agency. In fact, there are certain conditions that keep these companies (and their competitors) from working with marketing agencies, such as:
The 3 Most Common Problems for Marketing Agencies
Lack of Tools and Resources: Most agencies haven't been able to keep up with the Internet's evolution, and their services have become flawed because of it. They can't afford the number of qualified members required for a digital marketing team, nor the different providers for tools and digital technologies; we elaborate on this topic in this entry about the evolution of the Internet and digital marketing. When evaluating the potential benefits a marketing agency could provide, clients will favor variety; they expect enough options to cover all the requirements in their digital marketing campaigns.

Companies look for the best resources at the lowest costs; they won't trust an agency with limited tools over an agency supported with updated and effective resources to provide better results. On the other hand, when agencies take this factor into consideration and add variety to their services, it might lead them to another problem.


High Costs: Potential clients will likely see this as a bad thing and take you for just another expensive agency within the market. Still, when lacking sufficient tools, many agencies are forced to outsource people or services, which will inevitably raise their budgets. Clients usually decide on a cheaper alternative, making a big mistake in the process. The cheapest option can be even more costly for them, given the need to match the demands entailed in making digital marketing. This sets the stage for the third problem.


Lack of Innovation: As it was previously mentioned, an agency's the lack of innovation poses a big red flag for businesses. The newest technologies and the appropriate staff are important pieces in the development of an innovative digital marketing strategy. When an agency fails on both accounts, bad results tend to follow, either because of incomplete resources or lack of knowledge. The client's dissatisfaction can damage your company's reputation as much as your finances.
WebFindYou Solves these Problems for Marketing Agencies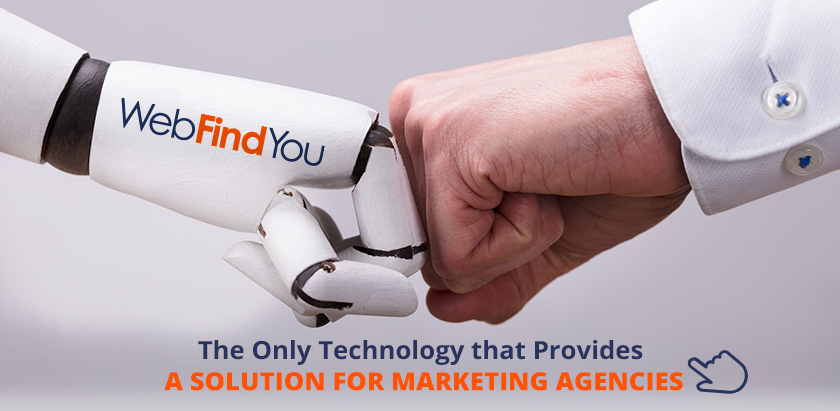 WebFindYou is the first and only All-In-One Digital Marketing Technology on an international scale. It is the only technology managing content and ecommerce, built and programmed from scratch for search engine optimization and integrating 20+ digital tools in one single technology. All of this has been accomplished with the purpose of providing a single place for you to complete all the steps in the implementation of true digital marketing, with less hassle, reduced cost, and increased revenues and results.
Being an All-In-One Digital Marketing Technology, WebFindYou can simplify the process for traditional and digital marketing agencies with
more than 20 digital marketing tools
. It also saves a lot of money: WebFindYou only costs $49 per month (license fee) instead of the thousands of dollars required for providers and external services. WebFindYou also saves them time because there will be no need wasted time searching for providers, tools, or how to get better results with the technology. Everything is done faster because our technology integrates all the required resources to develop a successful digital marketing campaign. Results will be maximized, guiding companies down the road to success and positioning their brands as a leader.
Traditional marketing agencies must step into the digital world in order to increase their resources (and their clients' revenues). WebFindYou's All-In-One Digital Marketing Technology includes a great variety of essential tools for digital marketing, like CRM, SEO, email marketing, URL shortener, ecommerce SEO, optimized web design, responsive technology, CMO, reputation management, etc. The best part is that we have the most qualified professionals willing to help you on your way to success with the proper management of these resources.
In the same vein, if you have a digital marketing agency, why not try reducing expenses and getting more revenues? By providing our All-In-One Digital Marketing Technology, you won't have to spend time and money searching for resources/external staff. Your clients will have all the resources at a very low price, so both parties will profit from it.
In short, Marketing agencies of all types will benefit from providing and distributing WebFindYou's technology. More clients will come to them and they will learn the simplified way of digital marketing with
less hassle, reduced costs, and increased revenues.
Our goal has always been to guide people, taking each step down the path of true digital marketing in an easy and inexpensive way. Once you learn how to manage our technology, we offer you the chance to be a part of our WebFindYou Marketplace.
WebFindYou Marketplace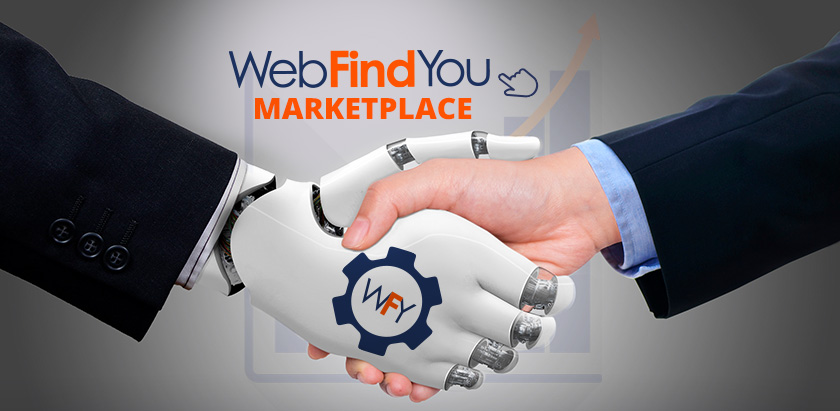 The WebFindYou family invites marketing agencies to become a part of our marketplace. We offer certification for all our providers while they bring the most effective technology to their clients. Our marketplace promotes a real win-win relation for all agencies involved. It will serve as an intermediary that potential clients will use to get close to agencies, rewarding them with efficient and optimal service. In turn, these agencies will help promote the advantages of our technology, fulfilling our main goal of helping the whole market implement simplified digital marketing with positive results.
Join WebFindYou Now!
If you wish to be a part of the WebFindYou family and trust our All-In-One Digital Marketing Technology, then there's no time to lose. Visit our marketplace to learn more about all we can offer you. You can also fill out our
contact form
or call us at
1-866-SEO-WEBS (736-9327)
. Our doors will always be open for anyone wishing to maximize their business.
If you want to maximize your revenues, your agency is ready to discover the true power of the Internet with WebFindYou.
If you found this article helpful then let us know in the comments section below. Likewise, feel free to share it using the share options below. Want us to cover another topic of your interest pertaining to digital marketing? If so, then like us and follow us on social media, and post to any of our social media profiles the topic you'd like us to discuss:
Facebook WebFindYou
,
Instagram @WebFindYou
and
Twitter @WebFindYou
.