Toys R' Us Comes Back with the Help of Omnichannel Marketing
min read
August 09, 2019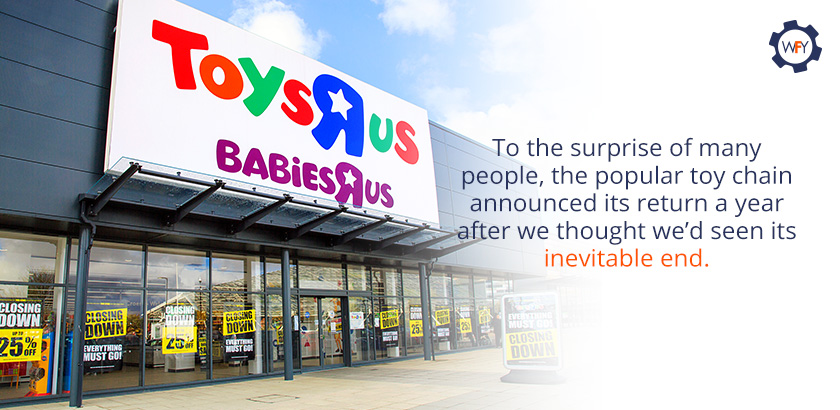 A few months ago, we talked about the substantial consequences of not having an online presence in a world where the Internet stands as one of the most important resources for maximizing recognition and sales. Such a world,
with around 2 billion websites
and a big number of users on their way to becoming smart consumers, makes it impossible to resist change. Digital marketing is simply a basic step businesses have to take at some point if they want to succeed.
In another blog post
, we mentioned Toys R' Us as one of the grim examples of the results that an opposition to new strategies can bring to a company. It's important to remember how dangerous it is to get stuck on the same model while innovation is such a thriving force in today's marketing world. On this note and to the surprise of many people, the popular toy chain announced its return a year after we thought we'd seen its inevitable end. And this time, Toys R' Us is welcoming the advantages of omnichannel marketing.
Toys R' Us Returns to the Market Adopting Omnichannel Marketing Strategies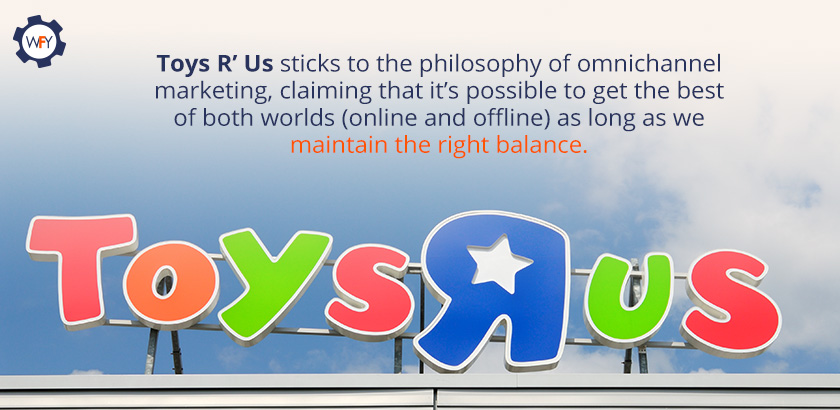 Almost a year after an unfortunate farewell in September 2018, it was announced that Toys R' Us would reopen its doors in several cities by the end of this year. This would be done under a new concept and even a new matrix: Tru Kids.
Let's remember that some of the reasons that prompted the chain to shut down were lack of creativity, an aversion to digital resources, and an unwillingness to change the archaic marketing model that had starred in the brand's previous strategies. The new concept proposed by the chain seeks to correct past mistakes, acknowledging that marketing has reached a level of versatility where things are not just black and white, and several grey areas are useful to improve a marketing plan. This is why the announcement sticks to the philosophy of omnichannel marketing, claiming that it's possible to get the best of both worlds (online and offline) as long as we maintain the right balance.
Omnichannel marketing is the perfect example to develop a campaign both online and offline if the strategy obeys the goal of providing positive experiences for potential customers (interaction, content, promotion) while using different platforms simultaneously. Done properly, the campaign will result in a better response from the target audience, whether in sales, recommendations, popularity, or customer loyalty.
What are the Upcoming Changes for Toys R' Us?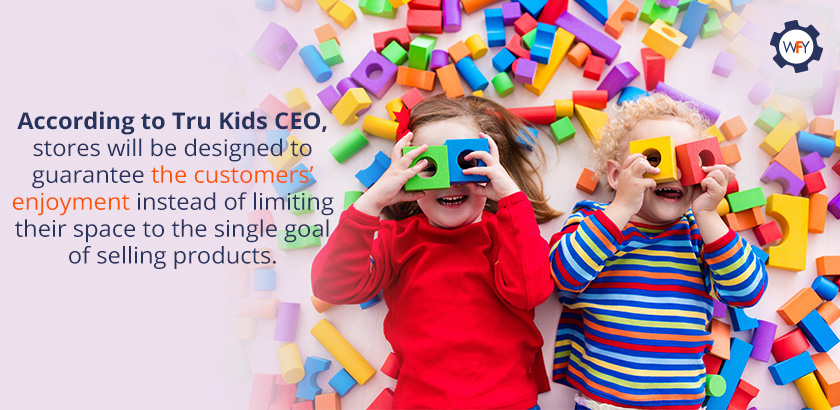 Richard Barry, CEO of Tru Kids, announced that the first big change in the chain structure will be a reduced volume in smaller physical stores. The stores will span 6,500 to 10,000 square feet.
The arrangement came from a new goal of making experiences a priority over store volume. For this, the company started a partnership with b8ta, a retail service company specialized in creating software solutions for an optimal interactive experience. The designs implemented on these new stores will guarantee the customers' enjoyment, instead of limiting the physical space with the single goal of selling products.
According to Barry, and what little information has been divulged about the toy chain's future action plan, each store will offer the most innovative and trendy products in addition to preparing events for the public. Customers will enjoy daily activities, ranging from stands representing all the brands with products on sale to performances with Geoffrey The Giraffe, the chain's beloved mascot. There will also be an entertainment area where children and adults alike will be able to try different toys before buying them.
When it comes to the toy chain's involvement with the online world, we can mention the fully renovated website, which also currently displays
a press release announcing the return of Toys R' Us
. Let's hope that little by little, Toys R' Us continues offering more details about the resources involved in this new beginning. The integration of so many tactics and qualities already hint at a very successful future.
Why is It Important to Know This News?
Entrepreneurs and marketing experts must know that this type of news will always be relevant for businesses, whether their operations are online or offline; news like this can give us a view of the current digital marketing trends and provide ways to use the knowledge to your advantage. This is why WebFindYou, the All-In-One Digital Marketing Technology, is constantly adding news, articles, updates, and more valuable content to its News+Blog section. You will always have all the important information when it comes to technology, companies, and digital marketing.
Do you Want to Know More About WebFindYou? Contact us Today!
To know more about our technology and everything we can offer to improve your business, you can visit our
All-In-One
section. There you will find detailed information about the 20+ tools we integrate to help you execute true digital marketing in one single place, with less hassle, reduced costs, and increased revenues. If you want to talk with a member of the WebFindYou team, call us at
1-866-SEO-WEBS (736-9327)
or fill out our
contact form
. We will be happy to assist you!
If you found this article helpful then let us know in the comments section below. Likewise, feel free to share it using the share options below. Want us to cover another topic of your interest pertaining to digital marketing? If so, then like us and follow us on social media, and post to any of our social media profiles the topic you'd like us to discuss:
Facebook WebFindYou
,
Instagram @WebFindYou
and
Twitter @WebFindYou
.