Discover 22 Google Apps to Help you Execute Digital Marketing More Effectively
June 13, 2019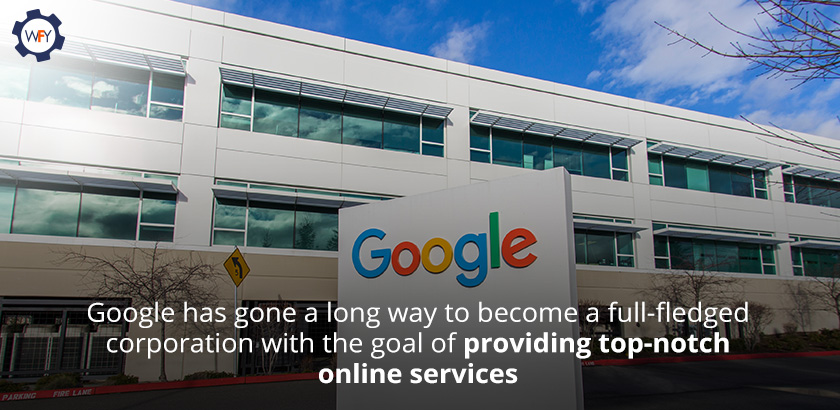 Who doesn't know about Google at this point? This popular tech corporation has spent years leaving its mark on every corner of the Internet. What started as a dissertation topic has gone through several changes that have improved its original structure. Now,
Google is the world's most valuable brand
, leaving a clear statement about its influence on everything digital.
Beyond serving as the main online search engine, the tech giant has become a full-fledged corporation with the goal of providing top-notch online services. These services are not only meant for Google's users, they are designed to help any person using the Internet to look for tools for their job, research, and many other tasks.
Google has stood out in the digital marketing world in the same way it's built up its brand through other branches and industries. All who work in the area, whether marketers or online business owners, understand how important certain features and apps can be.
If you still don't know just how much you can achieve with the innovations released by Google, WebFindYou has a list with 22 apps that might help you improve your digital marketing efforts. You may have heard of some of these popular Google apps before.
Discover 22 Google Apps to Help you Execute Digital Marketing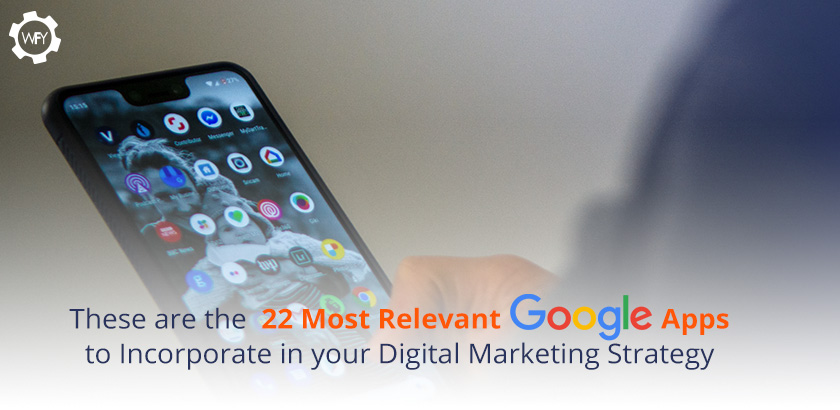 Google Search
What would the world be like without Google Search? It's the main reason the company became popular in the first place and it's currently the world's most popular search engine.

We don't have to give an overly complex definition of what Google Search is about. You only need to open your browser, Chrome in particular, to find a search engine where you can send any question, state your needs, or request a product to start a search. The engine responds with a list of options tailored to the quality you'd to expect to get.


Google Books
Google Books was born in 2004, after the company decided to make digital versions of millions of books in different languages, with different themes, either with or without copyright. The books are placed in a search engine structure to provide full digital text files for people in need of specific information.


Google Finance
This app was created in 2008 to help those interested in making investments in the stock market. It is designed to offer news, overviews, and statistics regarding users shares and graphs related to the finance world.


Google Shopping
Google Shopping is an app created to make comparisons between products in different ecommerce websites, all of them indexed in the search engine. When you request a product on Google, the Google Shopping feature shows you different websites offering the product, along with prices and the site's title and name. Thanks to this, Google Shopping becomes a practical tool for users and a great asset to increase the visibility of ecommerce companies.


Google Drive
The tech giant came up with this app to upgrade what was then known as Google Docs. This app was initially a service to create and edit text documents, spreadsheets, templates, and forms. Now Google Drive stands out as an effective cloud storage where files are synched inside 5gb worth of space. This app is great for planning, organization, and storage of important information concerning your digital marketing campaigns. Once it's saved in the cloud, all your content can be visualized on any digital device.


Google Calendar
In April 2006, Google presented its own free online calendar to those users interested in organizing, creating, managing, and sending invites. These tasks could be within the user's reach while shown on the app's agenda.

How can this help digital marketing? It is actually an excellent source of help, because Google Calendar allows you to control several aspects of your digital marketing campaign such as schedules to post your content, coming events, team meetings, and the tracking procedures in the time preceding an important date.


Google Assistant
Google Assistant is Google's own Siri. A virtual assistant created in 2016 to simplify the execution of simple tasks. It can perform phone calls, schedule events, watch videos, listen to music, translate content into different languages, etc. You don't need to look far to find all the things Google Assistant can do for you.


Google Marketing Platform
The company recently announced the unification of two of its products: Google Analytics 360 and DoubleClick are now part of a single platform called Google Marketing Platform.

In light of the latest results generated by some companies when they included DoubleClick and Google Analytics in their marketing strategies, Google made the decision of simplifying the process and merging both apps into one powerful marketing platform. The outcome is an app capable of integrating a number of useful tools for businesses, all of which help planning, measuring, and optimizing user experience from one single place.


Google Ads
Previously called AdWords, this app is very popular among marketers and remains the company's official PPC platform. It allows businesses to post promotional ads for their products and services through different channels offered by its technology.

In its early days, the app only accepted text ads, but with the evolution to Google Ads came a series of pleasant stylistic changes, along with more features to create images and video ads.


Google AdSense
Created in 2003, Google AdSense belongs to Google's online advertising family. This ad tool helps you earn money by inserting your ads in a high-traffic website.

You only need to have an account on Google AdWords to generate the ads and a website (whether a blog or something else) in which to post them. With AdSense, you make money each time a user clicks on your ad.


Google My Business
In 2014, the tech giant decided to give online companies more control over their website's performance, along with the chance to improve their local SEO.

Google My Business allows the execution of different tasks from one single platform. You can make posts, give responses to the reviews left by users, and update your company's information in Google Maps and search engines. The app is available on Android and IOS so you can work with it at any time.


Google Digital Garage
Google Digital Garage is a space where entrepreneurs, students, and business owners can find free courses related to online marketing and its tools. Within the app, you'll find informative content about ecommerce, digital marketing, SEO, social media, and many other helpful topics that you need to know about if you're starting to venture into the world of Internet sales.


Blogger
Blogger is a CMS platform acquired by Google in 2000. It's the ideal tool for creating and posting content of any kind. Like WordPress, Blogger offers different templates, free formats, and of course, exclusive tools to put together your own online blog.


Google Classroom
This app was released in 2014 and, as the name implies, it's meant to work as an educational tool. The app optimizes blended learning, helping manage the virtual process via online classrooms. In these classrooms, teachers and students can share information and relevant material concerning the study units.

In digital marketing, Google Classroom works as a resource to develop joint projects where feedback can be maintained between all the parties involved in an organized fashion.


Google News
In 2002, the company released Google News to the public. The app collects information, news, and relevant articles and presents them in a news search engine. The engine compiles content in different languages (French, Greek, Portuguese, Hindi, Dutch, Spanish, Korean, English, Italian, etc.), and the app adapts the information in relation to the user's country of residence.


Google Analytics
This might be one of the most important tools when it comes to implementing a digital marketing strategy. Google Analytics is an app that lets you track different aspects of your website in real time. On the platform, you can see the traffic in your website, its audience, visited pages, time spent on the site, and all the information you need to identify what works in your strategy.


Google Keyword Planner
This is a keyword search tool and it's ideal for increasing your online company's SEO. This valuable resource lets you see the most effective keywords for users in relation to your product/service. With this information, you can boost your website so users can find it when they look for these words.


Google Trends
Like Google Keyword Planner, Google Trends helps you determine which words to use in your SEO strategy. It's main feature, however, is the ability to show just how popular a word/phrase is. This means that you have the chance to set comparisons between keywords and identify what option works best with what you want to sell.


Think With Google
Think With Google is a space created to provide informative content about different areas in marketing, technology, innovations, and the Internet as a whole.


Google Developers
This website is meant to help web developers around the world. When you access the site, you can visualize the tools used by Google to create apps, the tools used to track them after they are launched, and the resources applied to make improvements when there's need for them.


Google Web Designer
This app is an advanced tool to create ads and web content with HTML5 and it's armed with an integrated code and visual interface.


Google Maps
We can't ignore Google Maps. This popular app was released in 2005. It's currently the main GPS used by people worldwide. Google Maps keeps users informed when it concerns their current location or any other area they want to reach. It shows the available means of transportation, alternative routes, the estimated time of arrival, and many other useful details about any given location.

If you optimize your presence on Google Maps using Google My Business, you'll become visible to a big number of users.
WebFindYou Helps your Business Stay Ahead of Google's Innovations!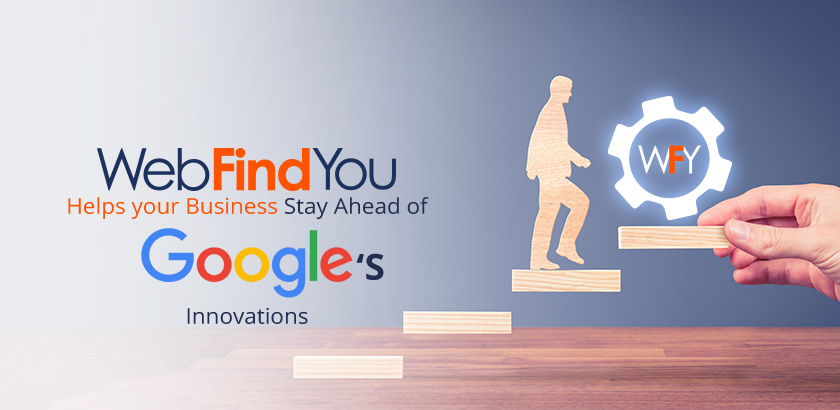 In 2018 alone, Google released an astounding variety of new features and apps
. We can expect this trend to repeat itself in upcoming years. You, as a growing online company, need to be up-to-date with these new opportunities and take proper advantage of them. This is the best way to maximize your strategy's results.
This is why WebFindYou, the first and only
All-In-One
Digital Marketing Technology, is always aware of the ever-changing list of updates brought by Google on a near-daily basis. In case you need to adapt to a new modification, WebFindYou offers the chance to help you through the process. We understand that many companies don't have the time to track each and every step taken by Google. WebFindYou makes sure this lack of time is no longer an issue for you.
Do you want to know more about us? Feel free to contact us to get more information about the options we have for you. You can call us at
1-866-SEO-WEBS (736-9327)
or fill the
contact form
and we will be happy to assist you!
If you found this article helpful then let us know in the comments section below. Likewise, feel free to share it using the share options below. Want us to cover another topic of your interest pertaining to digital marketing? If so, then like us and follow us on social media, and post to any of our social media profiles the topic you'd like us to discuss:
Facebook WebFindYou
,
Instagram @WebFindYou
and
Twitter @WebFindYou
.