Help Santa Find Your Website This Holiday Season
3 min read
December 10, 2014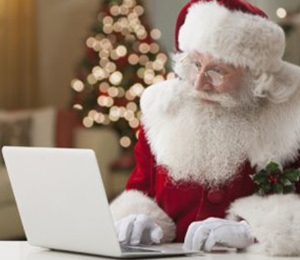 Right now, Santa is up in the North Pole with his army of elves working hard in preparation for Christmas. To alleviate the elves' work this year, Santa decided to take a more 21st century approach in getting gifts ready for everyone on the Nice List by taking to the Internet for his holiday shopping. Being the busy man that he is, when Santa starts looking online for gifts, he abbreviates the process by simply going to Google and typing in each item that has been written on a Christmas List, and then selecting the highest ranked option. Think about it: Is this not similar to the process used when doing your own Internet searching? If you want Santa to land on your website and make purchases from your store this holiday season, you need to determine a way to obtain that coveted top spot.
When devising a strategy to elevate your website's rank, paying attention to a few startling statistics will serve as an important motivator. First, it's important to note that nothing will have a more uplifting impact on your SEO strategy than managing to acquire the highest ranked spot. As has been proven, the number of hits received by the top ranked site is equivalent to the number of hits received by the second through fourth spot combined. As a result, you can see why simply being ranked on the first page is just not enough. Second, the biggest jump in the click percentage occurs between the last link on the first page, spot 10, and the first link on the second page, spot 11. More specifically, there is an estimated 143% lower number of clicks on spot 11 than on spot 10, thus proving how detrimental only being on page two can be for your company. Lastly, the top spot receives approximately 34.35% of all search engine traffic, while as the links travel down the page their traffic amounts become exponentially smaller, culminating in an average of roughly 2.71% click percentage on the last link of page one. These facts make it clear that if you don't manage your SEO properly, Santa, and any other search engine users, will have a hard time finding your page.
On the bright side, appropriate implementation of an
SEO website
can put your website where it needs to be: at the top. While the high number of competitors in your industry, who might also be employing an SEO strategy in their websites, may be intimidating, the
WebFindYou Platform
exists to simplify managing a website and implementing an SEO strategy. SEO can be complex, but at its core it involves designing certain technical aspects of your website in a way that allows Google to easily understand what your site has to offer, so that users can better find exactly what they're searching for. For example, if Santa is trying to find a "maltese puppy in los angeles" for a little boy, Google will deliver results based on how easily they can understand that this is a primary keyword on a website. However, simply mentioning your company's keyword phrases a few times on your site is not enough: to properly define the keywords and purpose of your website, many components are involved. The WebFindYou platform is designed around this concept, and includes every component necessary to get your site noticed and ranked by Google.
WebFindYou knows all the ins and outs of the way search engines work and how to cater to what they are looking for. Our platform and website designs take these aspects into account so that you don't have to. Regardless of if you are already highly educated on how to employ an effective SEO strategy or if you are a technology rookie, having an SEO website designed for you by WebFindYou can save a lot of time and be a greatly beneficial addition to your Internet marketing strategy. To begin taking advantage of the power of the Internet, contact WebFindYou today!
Simply follow these easy to follow steps to get started:
You'll receive an email to access the WebFindYou platform for your website.
Follow the very easy to follow videos to implement WebFindYou for your business.
For questions, please call us at 1-866-SEO-WEBS (736-9327), fill out our contact form, subscribe to our newsletter or follow us on social media to stay informed of everything WebFindYou including webinars and live speaking events.
If you found this article helpful then let us know in the comments section below. Likewise, feel free to share it using the share options below. Want us to cover another topic of your interest pertaining to digital marketing? If so, then like us and follow us on social media, and post to any of our social media profiles the topic you'd like us to discuss:
Facebook WebFindYou
,
Instagram @WebFindYou
and
Twitter @WebFindYou
.